Mets will need more than Steve Cohen and his billions to transform the team in one winter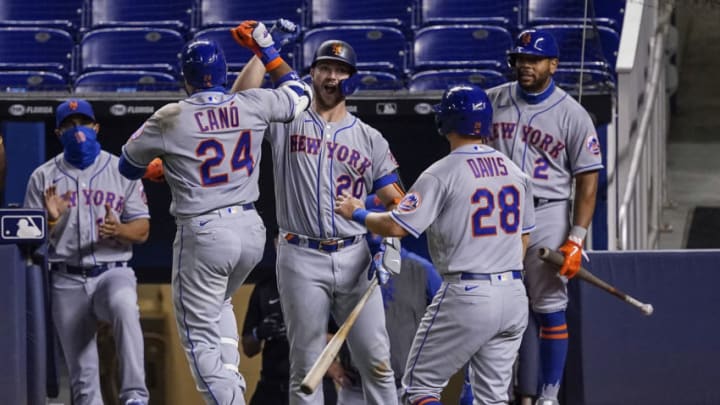 MIAMI, FLORIDA - AUGUST 17: Robinson Cano #24 of the New York Mets celebrates with Pete Alonso #20 after hitting his second homerun of the game in the sixth inning against the Miami Marlins at Marlins Park on August 17, 2020 in Miami, Florida. (Photo by Mark Brown/Getty Images) /
Steve Cohen and his billions of dollars would help out the New York Mets, but even he cannot completely transform the franchise in one winter.
Steve Cohen doesn't own the New York Mets yet and he may never live out that dream. The ownership saga has gone on for months now. Fans remain hopeful that the next owners are an improvement over the Wilpons.
Cohen is a fan-favorite option because of his immense wealth. In sports, money can solve a lot of problems. Unfortunately, Cohen and his billions can't fix the Mets in just one winter.
If money is no issue for Cohen, he can buy up every free agent he wants. He can act like George Steinbrenner and pay mercenary free agents top-dollar to come to Flushing and put on the blue and orange cap.
While this tactic doesn't guarantee a championship, there's no doubt it would help the Mets out immensely. This winter, though, it would only be able to slightly improve the club.
You see, the biggest question mark heading into the 2021 season is what the Mets rotation will look like. Jacob deGrom is the only guy I would trust throwing a baseball. Everyone else is either a free agent and/or comes with some baggage.
This brings us to the free agent market. The Mets can snag all of the best free agent pitchers. Plug those four in behind deGrom and the Mets are better.
Conceivably, the Mets could have a rotation with deGrom, Trevor Bauer, Marcus Stroman, Mike Minor, and Jake Odorizzi or some combination of this. It's not realistic in the least bit but it's important for me to at least list out these names to make a point.
What is it I'm trying to say? The free agent pitchers this winter don't run deep.
I haven't even thought about how the Mets can realistically fix their rotation for the 2021 season. I can't count on Noah Syndergaard returning on time and pitching effectively. David Peterson looks like he might be pretty good but that still leaves the team with three other spots to fill.
In the excitement of Cohen, many of us got caught up thinking money will attract free agents. It definitely will—for the most part.
Cohen cannot go too nuts in bidding wars. If he's going to overpay for a player, it can only work so many times before other teams overpay as well. Major League Baseball would undoubtedly get involved if there was a sense of unfairness, but it shouldn't stop Cohen or anyone else from bidding high.
The problem a Cohen-run Mets club could face beyond just attracting players to the team and/or city is how other teams can also outbid them for free agents. If every team is willing to overpay for only one free agent, it makes it a lot tougher for Cohen to overpay for all of the best ones.
Building a super team isn't easy unless you're willing to go the extra mile for everyone.
Fortunately, I think most Mets fans understand it's a marathon and not a spring toward a championship. As much as everyone would love to see a powerhouse squad at Citi Field as soon as possible, after all of these years under the Wilpon Regime it's understandable how patient everyone still needs to be.
Want your voice heard? Join the Rising Apple team!
I do believe the ownership change will be good for the Mets in the standings. How quickly it helps them climb up is still to be determined.