New York Mets News
Mets outscore the National League in our 1999 season simulation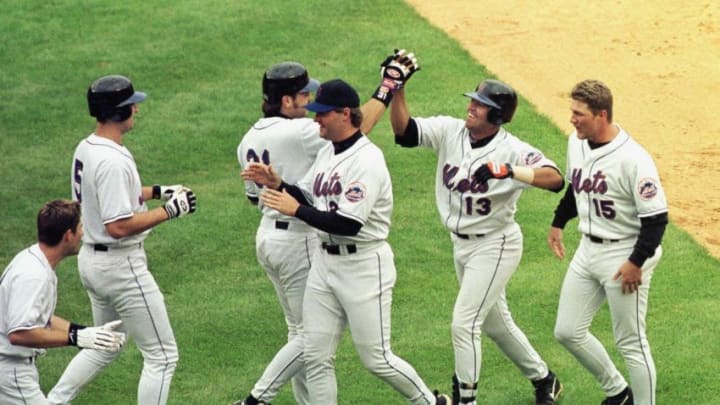 New York Mets' Edgardo Alfonzo (13) is congratulated by teammates after batting in the winning run in the ninth inning of game against the St. Louis Cardinals 22 August, 1999, at Shea Stadium in New York. The Mets scored two runs in the bottom of the ninth to win the first game of a doubleheader, 8-7. Matt Franco (15) scored the winning run. AFP PHOTO Stan HONDA (Photo by STAN HONDA / AFP) (Photo by STAN HONDA/AFP via Getty Images)
A potent New York Mets offense leads the way in our simulation of the 1999 season. Will it be enough to make it to the postseason?
For the past two simulated New York Mets seasons, the team has finished with the best record in the National League among those that didn't make it to the postseason. They are headed in the right direction. It's time they get over the hump.
Fortunately, the club made a lot of big additions in the offseason. Robin Ventura is here to cause some chaos along with Mike Piazza in his first full season with the club.
Like we always do, let's recap past Mets seasons in this virtual world:
1962: 52-108
1963: 43-119
1964: 44-118
1965: 50-112
1966: 56-105
1967: 64-98
1968: 74-88
1969: 93-69
1970: 101-61 (NLCS loss 3-2)
1971: 100-62 (World Series Champions)
1972: 80-76
1973: 83-77
1974: 72-90
1975: 75-87
1976: 88-74
1977: 78-84
1978: 68-94
1979: 64-98
1980: 65-97
1981: 34-69
1982: 69-93
1983: 64-98
1984: 83-79
1985: 98-64 (NLCS loss 4-3)
1986: 90-72
1987: 95-67 (NLCS loss 4-3)
1988: 99-63 (World Series Champions)
1989: 110-52 (World Series loss 4-1)
1990: 103-59 (World Series loss 4-0)
1991: 84-77
1992: 76-86
1993: 80-82
1994: 43-70
1995: 74-70
1996: 74-88
1997: 89-73
1998: 88-74
This could be a big season for the Mets. Let's have some fun.
Preseason Predictions
Here's some good preseason news—the experts believe the Mets will be a playoff team. At 92-70, they will finish four games behind the Atlanta Braves but have the third-best record in the National League. This will be enough for them to capture a Wild Card.
Al Leiter is the only Mets player on the preseason top ten lists. He is predicted to go 19-10 with a 3.00 ERA this year.
Spring training results were positive. The Mets went 15-15 and were only two games behind the first-place Florida Marlins. Mike Piazza blasted 16 home runs and 32 RBI. Benny Agbayani was one of the leagues' best hitters and Roger Cedeno had 15 stolen bases.
I'm excited about this virtual season. I expect this team to finally give the Braves a worthy challenge.
Regular Season Results
The first half went about as expected. At 50-39, they are six games behind the Braves and 2.5 out of the Wild Card spot.
The Mets got some huge offensive performances in the first half. Mike Piazza led the league with a .362 batting average. In second place, we find Edgardo Alfonzo at .345. They are also number one and three respectively in NL WAR. Alfonzo did a lot of his damage during a 25-game hitting streak.
The Mets' best chance at making it to the playoffs may require them to catch Atlanta. There are a lot of good teams in the NL, making it a little more difficult to snag a playoff spot via the Wild Card.
My assumption was right. The Mets finished 92-70 which was enough to fall 8 games behind the Braves in the NL East. In the Wild Card chase, it didn't help. The Houston Astros, at 98-64, took it. The Mets were actually third in the Wild Card standings with the San Francisco Giants getting screwed over the most at 94-68 without a playoff spot.
Honors
Several Mets players found their way to the All-Star Game in 1999. Mike Piazza and Edgardo Alfonzo were both voted in. Joining them, closer Armando Benitez.
Piazza and Fonzie each had a double in the All-Star Game. Piazza scored a pair of runs and Alfonzo had an RBI. Benitez pitched a clean inning with a walk and a strikeout. It was total NL domination with the American League only picking up three hits.
There are a couple of awards to acknowledge. Octavio Dotel won the league's Rookie of the Year Award. While splitting time as a starter and reliever, he was 7-10 with a 3.42 ERA.
Defense reigned supreme for the 1999 Mets. An injury got in the way of Rey Ordonez winning a Gold Glove, but three others did. Rick Reed won his third straight from the mound. Edgardo Alfonzo won his first as a second baseman and Robin Ventura became a three-time Gold Glove winner for his work at third base.
We also had a pair of Silver Sluggers on this team. Piazza won his eighth straight and Alfonzo took his first home with him.
Notable Individual Statistics
This was a huge year for the offense. The Mets finished first in runs scored and OBP. They also had the second-best batting average. Let's dive into some of the numbers.
John Olerud hit .300 with 19 home runs and 75 RBI. Edgardo Alfonzo batted .334 with 27 home runs and 99 RBI. Robin Ventura had a fantastic debut season with a .294 batting average, 25 home runs, and 107 RBI.
Then there was Mike Piazza. He hit .317 with 42 home runs and 134 RBI. His home run total was third in the league and his RBI numbers were a single-season Mets record as well as second in the NL.
Alfonzo's 8.5 WAR was the highest in Mets history and only 0.1 away from tying the league leader. He finished third in the batting title race.
Let me also mention Roger Cedeno led the league with 66 stolen bases.
Pitching let the Mets down. The midseason Kenny Rogers trade did work out well. He was 8-1 with a 2.05 ERA as a member of the Amazins. Armando Benitez led the league with 35 saves. Overall, though, it was a year where the offense had to career the club.
Want your voice heard? Join the Rising Apple team!
Unfortunately, the postseason drought continued for the Mets in our 1999 simulation. Despite an electric offense, there was no postseason trip. I'm hoping 2000 proves to mimic real life with a visit to the World Series.