New York Mets: An interview with beat writer Justin Toscano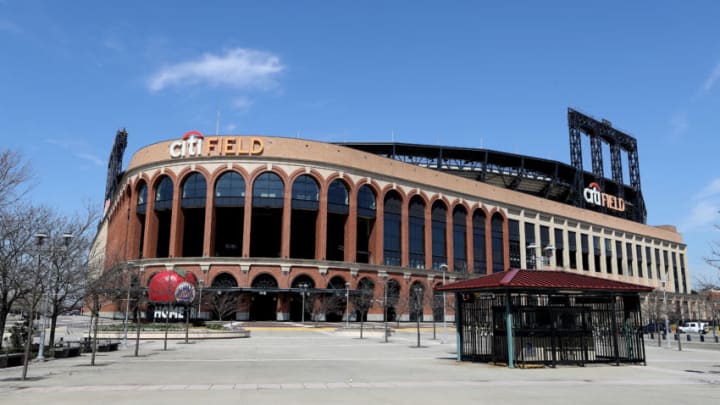 FLUSHING, NEW YORK - MARCH 26: Citi Field is empty on the scheduled date for Opening Day March 26, 2020 in Flushing, New York. Major League Baseball has postponed the start of its season due to the coronavirus (COVID-19) outbreak and MLB commissioner Rob Manfred recently said the league is "probably not gonna be able to" play a full 162-game regular season. (Photo by Al Bello/Getty Images) /
New York Mets beat writer Justin Toscano talks baseball with Rising Apple's Elizabeth Muratore.
The summer heat has arrived, and with it, New York Mets baseball has returned. The regular crew of players, coaches, and writers have trickled back into Citi Field, bringing us the updates we've been waiting for since March about batting practice, bullpen sessions, and Yoenis Cespedes actually running the bases.
Recently, I got the chance to speak with Mets beat writer Justin Toscano. He has been covering the Mets for the Record and NorthJersey.com since May 2019, and originally hails from San Diego, California.
We chatted about a lot of different topics, from his experiences covering this current Mets team to how he might approach a potential book about the Mets. Read on for a full summary of our conversation.
Was there any journalist that you followed closely growing up who inspired you or that you wanted to emulate in your career?
[Growing up] I read the papers and watched sports on ESPN, but I didn't get super into following people's writing probably until college. I think I really took after Doug Haller who covered Arizona State, my alma mater. He's with the Athletic now, but he was at the Arizona Republic back then when I was in college. I really took after the way he tells stories. That really appealed to me because that's the kind of stuff I like to read.
Also Mark Zeigler [is another one]. I'm from San Diego originally and Mark Zeigler covers San Diego State basketball for the San Diego Union Tribune. I kind of fell in love with his writing voice. I think if he didn't have a byline on his stories, you could still know it was him writing. He's got a way of being somewhat snarky or sarcastic, but not in a bad way, and it's because he's respected by the program. He's covered them a long time and puts in his due diligence.
What is most different about how you're approaching stories now versus a normal season?
Normally on a regular day, you'd be in the clubhouse for an hour before the game. It's a good chance to get to know the guys, whether you're just shooting the breeze or for a story. Now [the beat writers] don't have that, so we're all on the same Zoom calls. That for me, because of the way I've branded myself and the way I like to cover a team, that has been the most challenging part.
Now, I'm finding that I have to find ways to attack stories differently. It's hard because we all have the same quotes. I'm finding that with covering the specific baseball things, I have to find creative ways to write stories that maybe others won't. It's just been trying to find ways to diversify my writing style and get better even though I only have these Zooms that other people have.
It's tough because on a Zoom call, you might just ask one question. You're kind of at the mercy of whatever else is asked. It's very hard to put together story ideas that way. Normally, if Jeff McNeil hits a home run on one day, the next day I could talk to him for five minutes at his locker about different things and ask follow-up questions, but now you can't do that. You might be able to ask one or two follow-ups on the Zoom.
I think it's challenged me to really look harder at the way I write stories. I always try to make the writing better than anyone else, but I think now people reading can tell who's better than who because we all have the same stuff.
But now honestly, it's a weird year and I'm just grateful to have a job. I know a lot of people have been struggling, so you hope it's done safely, but I'm just glad baseball is back. No matter what you want to say, I think it really is kind of an antidote for the pain and suffering that people have felt over the past few months.
Besides actual writing skills, what do you think is the most important skill to have in order to be successful as a Mets beat writer?
I think it always comes down to interviewing. A lot of these guys, they've spoken to dozens and hundreds of reporters their entire lives. You have to know the follow-up questions to ask because a lot of times they might just give you something in general if you don't have a specific angle for them. Doing your preparation and being a good interviewer are how you get the best stories.
The interviewing, people say, is huge in journalism, and I just think it's even bigger on a major league baseball team. People know everything there is to know about Jeff McNeil and Pete Alonso and a lot of these guys, so it's about what you are going to dig up that's different. That kind of goes into working a clubhouse too, they've got to at least see your face and you've got to be good at the game.
In general, people like talking about themselves, but these guys have talked about themselves since they were 15 or 16 years old, so they probably get a little tired of it. If you can stoke up a fire with them, not in a bad way but just get them interested, a lot of times it [helps] the other reporting you do. I will often go call a high school coach or college coach to get something different. Then when I come back and say something like, "Coach so-and-so who recruited you…" and you see [the players'] eyes light up a little, like "wow, that's cool," it makes them trust you. [They might think], "hey, my coach respects this guy, maybe he's not so bad as the other media after all."
Some reporters are fine showing up, writing the nitty-gritty about lineup changes and things like that. That, to me, is not as fulfilling as telling stories. [Interviewing coaches] is probably honestly going to be one of the main ways I get stories this year because I'm gonna have to. People in the industry underestimate how much fans enjoy those stories. A lot of fans couldn't care about the last couple of notes in your notebook. It doesn't resonate as much as to them. They know who they're rooting for.
What has been your most memorable moment or game covering the Mets?
Man, I would be remiss if I didn't mention the Callaway/Healey stuff. I mean, you talk about a kid who's like a month on his dream job, and you see a story you only hear about happening in like the 1970s, it's just crazy because you cannot fathom anything like that happening. Your journalism teachers will tell you stories, but to see Jason Vargas take a lunge like that, that was crazy.
Another one was the game they came back from the road trip when they were starting to get hot and Washington came in, they came back from like four down and Todd Frazier hit the tying home run. I went to Padres playoff games when I was little, and my parents took me to the World Series [in 1998]. But that Citi Field atmosphere might have been the best baseball atmosphere I've ever been in, at least to cover a game for sure.
I think there was something special about that night at Citi. Sometimes you can feel almost an anxiety in the air where the crowd is all pent up and waiting to release. When Todd connected with that ball, the floodgates were opened. There are just those times when you can feel the crowd, you can feel the energy in the air, it's almost palpable like you could cut it with a knife. That was one of those nights, you just can't describe it.
And then the one that was super memorable was in Washington when they were up by a bunch of runs in the 9th, and then Kurt Suzuki hit that home run and it was all over. There are a lot of things in this job where the players can get separated emotionally by the time we get in [the clubhouse]. That one, it was like a fresh wound. Jeff McNeil, he looked like his puppy died. I have never seen most of those guys so distraught in their lives.
You're obviously objective, but you do feel bad, like "Dude, that sucks," because it wasn't even their fault. They built this huge lead, and I think deGrom even pitched that game. His teammates had all this great run support, and to see it go by… It was probably the most incredible baseball comeback I've ever seen live.
Which Mets player do you think will surprise the most people by exceeding expectations during the shortened season?
Maybe this is recency bias, but I'm going with Michael Wacha. I always thought it was a pretty good signing. I know a lot of Mets twitter was like, "oh, that's not replacing Zack Wheeler," but I don't think Brodie was particularly wrong in spring training when he said he got paid for two half seasons worth of work. Michael Wacha is definitely one to watch. You've only got to put together a short campaign, and I think he's going to surprise a lot of people.
I do think the rotation's better than a lot of people think. With Rick Porcello, if he can get his mechanics straightened out, I think he's still a good starter. Both of those guys are looking to build value because they're still free agents after this year anyway. The rotation could honestly be much better with these two guys than Jason Vargas and Zack Wheeler. Wheeler had the bad benefit of terrible defense in a lot of his starts last year, and Vargas was good, but I just think [Porcello and Wacha] offer you a lot more versatility in terms of their repertoires that profile a lot better for the back end of your rotation.
Who's a current or past baseball player you've never interviewed that you'd love to talk to most? What would you ask them?
I would say Tony Gwynn, just because I grew up in San Diego. I would ask him how was he able to stay so consistent. I think that's a very hard thing to do in baseball. What makes somebody able to just stay that level through any situation and be that good?
Every year, somebody goes, "Giancarlo Stanton struck out more this season than Tony Gwynn did in his entire career." Baseball has changed and people's stuff is more dynamic and more electric than ever, so to be able to put the bat on the ball is something that will always befuddle me because I'm not sure how he was so consistent.
I think if it were a Mets one, probably Tom Seaver. I would want to ask him how he feels about pitchers these days not being able to go nine innings every time out.
If you wrote a book on the Mets, what would it focus on?
There's a wide range in any clubhouse of how guys got up to the big leagues, those minor league grinding stories. I think diving into those personal stories might be able to sell a book and be something to inspire people.
Jacob deGrom had Tommy John right after being drafted, [so did] Steven Matz at one point. Pete Alonso had a pretty smooth ride, but he was in Double-A with Jeff McNeil who had 3-4 injuries and was told he was never going to make it if he didn't keep hitting or stay healthy. I think there's a lot of cool stories you could do like that in the clubhouse and be able to dig into anecdotes that maybe no one has ever heard before.
Jeff McNeil didn't play organized baseball till his senior year of high school. He did when he was younger, but then he just gave it up for like five years. Jacob deGrom was a college shortstop,  he was supposed to be a third baseman and found himself at the end of the bench. He was told literally "if you don't pitch, you're not going to play." Now people say he's got the best stuff in the league, like how did he develop the best stuff in the league when he didn't even pitch in college?
Stories of what these guys had to overcome to make it to the big leagues might resonate with people. I think there's a chance not only to get exclusive anecdotes that nobody's heard before but to actually inspire some people.
Want your voice heard? Join the Rising Apple team!
Thank you so much to Justin for being so generous with his time, and for giving a great insight into the world of sports journalism and covering the Mets. For more information on his Mets coverage, you can find his work here.