Mets: Let's remember Mel Rojas, the pitcher traded to get Bobby Bonilla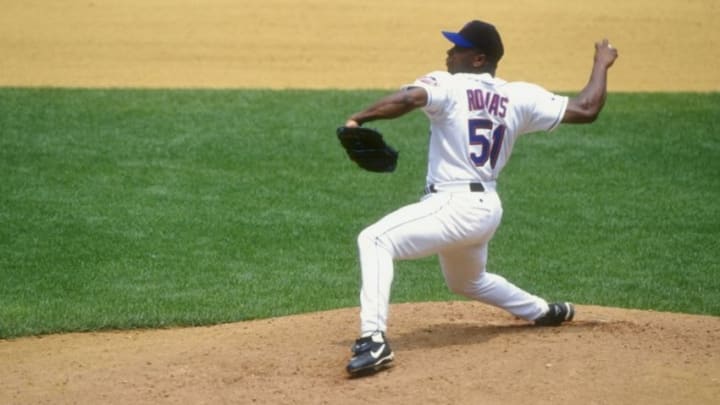 15 Jul 1998: Pitcher Mel Rojas #51 of the New York Mets in action during a game against the Atlanta Braves at Shea Stadium in Flushing, New York. The Braves defeated the Mets 12-1. Mandatory Credit: Al Bello /Allsport /
We all know about how poorly the New York Mets were affected by the 1998 trade for Bobby Bonilla, but the guy they gave up to get him, Mel Rojas, had an equally as poor conclusion.
This is my third July 1st with Rising Apple and each year I try to tackle the infamous Bobby Bonilla Day in a different way. It's tedious to write about how the New York Mets will be paying him infinity dollars for a bazillion years. Deferred contracts are so common in sports, people act as if he's the only guy getting paid to sit on his rear end.
This year, I don't want to write much about Bonilla at all. Instead, I want to take a look at the guy the Mets traded away to reacquire him for the 1999 season. This man is relief pitcher Mel Rojas.
I'm familiar with Rojas because of the large number of his baseball cards I have sitting in my storage space. Don't judge me. It came free with the apartment—the storage space, not the Mel Rojas baseball cards.
More from Rising Apple
Rojas enjoyed a 10-year career from 1990-1999. The majority was spent with the Montreal Expos for the first seven years where he routinely found himself as the closer. Once he left Montreal, things changed.
In 1997, Rojas began his season with the Chicago Cubs. He was one of the August pieces the Mets acquired along with Brian McRae and Turk Wendell. At the time of the trade, Rojas had a career-worst 4.42 ERA. In his years with the Expos, Rojas had never finished with an ERA higher than 4.12.
Hoping this was some fluke, the Mets added him in this trade that notably sent Lance Johnson to the Cubs. Unfortunately, Rojas' bad luck continued in New York.
In his 23 games as a reliever for the Mets, Rojas went 0-2 with a 5.13 ERA. Combined with his Chicago statistics, Rojas turned in a miserable 0-6 campaign with a 4.64 ERA.
To make matters worse, Rojas remained with the Mets in his same declining form for the 1998 season. Across his 58 innings, the results were even worse. Although he came away with a 5-2 record, his ERA ballooned up to 6.05.
This was the last of the Rojas era in Flushing. He was traded to the Los Angeles Dodgers over the winter in exchange for, you guessed it, Bonilla.
Rojas' time in Dodger Blue didn't last very long. After just five innings and a 12.60 ERA performance, he was dealt along with another former Mets pitcher, Dave Mlicki, to the Detroit Tigers. Nothing got better in the Motor City. Rojas had a 22.74 ERA in 6.1 innings of work.
Detroit released Rojas in mid-May and he signed with the Expos a few days later. Unfortunately, the reunion didn't go over well. In just 2.2 innings, he had a 16.88 ERA. Rojas' career was over. In one season, he had allowed more runs than innings pitched with three different teams. He finished the year with only 14 innings pitched and 28 earned runs against him.
I know this isn't the usual Mets content you may come to Rising Apple to read. It has very little to do with the Mets and I barely mentioned Bonilla at all. You can read about him plenty on July 1, maybe have a laugh, and then remember you have to work your entire life to get paid as much as he'll earn once a year for the next however-many seasons.
Want your voice heard? Join the Rising Apple team!
The baseball gods are not fair or kind. Proven in this Bonilla for Rojas swap, sometimes there are trades where everyone comes away as the loser.
Home
/
New York Mets History