New York Mets players who hailed from Flushing: Ed Glynn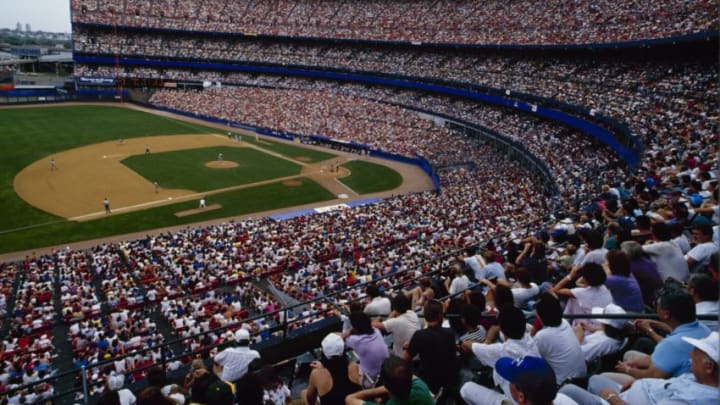 FLUSHING, NY - AUGUST 28: General view during the New York Mets game against the San Francisco Giants at Shea Stadium on August 28, 1988 in Flushing, New York. (Photo by Mike Powell/Getty Images) /
A look back at one of the few New York Mets players who hailed from Flushing, pitcher Ed Glynn.
Since 1964, the New York Mets have made their home in Flushing, Queens, a small geographical area in the much larger state of New York. Many Mets over the years have grown up in the Empire State, including several members of the current roster like Steven Matz, Marcus Stroman, and Dellin Betances.
But in the 50+ year history of the Mets, only a few of their players have actually grown up in Flushing, a stone's throw from Shea Stadium. This rare occurrence was the case for Ed Glynn, nicknamed "The Flushing Flash." He pitched for the Mets in 1979 and 1980. Glynn was born and raised in Flushing and attended Francis Lewis High School, located only six minutes by car from Citi Field and the former site of Shea Stadium.
As one might expect from his close proximity to the Amazins' home turf, Glynn grew up a Mets fan. He also had the unique circumstance of working for them before he ever played for them. Glynn was a hot dog vendor at Shea Stadium while in high school, years before he stepped onto the field as a big league pitcher.
More from Rising Apple
"I was a big fan," he told the New York Times in 1981. "I'd ask for [the players'] autograph, try to talk to them after the game. I thought a lot of them were hard-noses because they didn't have the time. Now I realize how tough it is to be a ballplayer."
Glynn's hometown team passed him up in the 1971 draft, and the 6'2″ lefthander began his career with the Detroit Tigers. He debuted in 1975 and had a smattering of starts and relief appearances over the next few years. Glynn ended up with 26 total appearances in Detroit, finishing his Tiger career with a 3-6 record, 4.93 ERA, and nearly as many walks as strikeouts.
In those years, the Tigers' pitching staff featured the likes of Detroit institution Mickey Lolich and the phenomenon Mark "the Bird" Fidrych, so it is not hugely surprising that Glynn flew under the radar there. Detroit ended up trading him to the Mets in spring training of 1979, in exchange for Mardie Cornejo.
After several years in the automobile capital of the world, Glynn had returned home, and he got many more chances to pitch with the Mets than he ever had with the Tigers. Glynn appeared in 46 games for his hometown team in 1979 after making his debut on June 1.
Earlier that year, the organization honored their hometown boy (and former hot dog vendor) with a May pregame ceremony in which they presented Glynn with his own official Shea Stadium hot dog container. During that game, Glynn channeled his high school years and went into the stands to sell hot dogs for a few innings. Clearly, even as a major league pitcher, old habits died hard.
Glynn finished out 1979 with an impressive 3.00 ERA despite a 1-4 record. Though his Mets debut was partway into the year, he proved to be one of the team's more effective relievers that season, in a bullpen that featured strong years from Skip Lockwood and Neil Allen. Glynn again was solid out of the bullpen in 1980. He appeared in 38 games, pitching to a 4.13 ERA and allowing 49 hits in 52.1 innings.
Unfortunately, Glynn's efforts in 1980 were not enough to keep him in Flushing. The Mets traded him to the Cleveland Indians in April 1981 for a player to be named later. He spent the next three years in Cleveland, appearing in 47 games with a 4.17 ERA in 1982 but otherwise not contributing to any major success there.
The Mets purchased his contract from the Indians in 1984, but Glynn never made it back into a major league game in Queens. He ultimately concluded his big league career with the Montreal Expos in 1985, the year after the Expos had sent perhaps their greatest export, Gary Carter, to the Mets.
Glynn had the distinction of wearing number 48 while pitching for the Amazins, the uniform number more famously worn by Jacob deGrom. Though this is where comparisons between the two end, Glynn's solid years for the Mets and childhood in Flushing carved him a unique place in franchise history.
Want your voice heard? Join the Rising Apple team!
Of pitching in his hometown, Glynn once said, "It was great pitching at home, but I'd get a lot of calls from people I hadn't seen since the fourth grade." Luckily, while Glynn played for the Mets, his family and friends did not have to travel far to cheer him on.
Home
/
New York Mets History