Mets season and future altered by the Rey Ordonez injury in 2000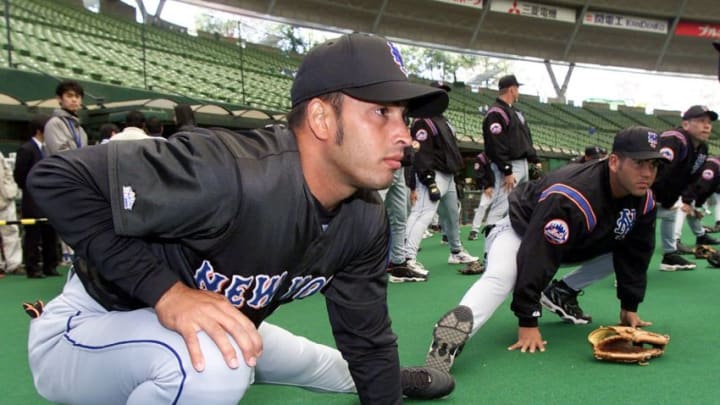 New York Mets' Rey Ordonez and his teammates warm up before a pre-season match with Japan's Seibu Lions at Seibu Dome in Tokorozawa, Saitama Prefecture, Japan 27 March, 2000. The Mets will play the first-ever official Major League Baseball game in Japan scheduled for a two-game season-opening series against the Chicago Cubs set for 29-30 March. (ELECTRONIC IMAGE) AFP PHOTO/Kazuhiro NOGI (Photo by Kazuhiro NOGI / AFP) (Photo by KAZUHIRO NOGI/AFP via Getty Images) /
The 2000 New York Mets needed to head in a different direction following the Rey Ordonez injury. In doing so, they altered the course of their season and the immediate future.
Rey Ordonez played his last game for the 2000 New York Mets on May 29. In a game against the Los Angeles Dodgers over in Hollywood, Ordonez fractured his left arm doing what he does best: playing defense.
Ordonez never fully recovered from the injury. That year, the Mets said farewell to him and had to found another solution at shortstop.
The Mets did have some internal options. A kid named Melvin Mora got plenty of starts at shortstop, but the team had a need to add a veteran at the position. Around the trade deadline, they shipped Mora and three others to the Baltimore Orioles for Mike Bordick.
More from Rising Apple
Mora went on to become an All-Star for the Orioles multiple times. Bordick, meanwhile, didn't stay in New York beyond 2000.
At the time of the trade, Bordick was having an unprecedented season. He was slashing .297/.350/.481 with 16 home runs. In previous years, he had never hit more than 13 long balls. The Mets were hoping to capitalize on this atypical year from the 34-year-old.
It didn't work out as planned. Bordick slashed .260/.321/.365 with the Mets and added 4 home runs in 211 trips to the plate. It seems as if Camden Yards may have played a role in the home run surge for the typically lighter-hitting Bordick.
To the trade more favorable for Baltimore, he returned to Baltimore the very next season as a free agent.
The Bordick swap wasn't terrible at the moment. For what it's worth, the other guys New York surrendered didn't go on to have anything near the career as Mora did.
The bigger question here is about what the team may have looked like if Ordonez stayed healthy and they could have upgraded elsewhere.
Trade deadlines back in 2000 weren't nearly as big as they are in modern baseball. That summer, though, we did see some memorable names swap uniforms. Curt Schilling, Richie Sexson, and Will Clark all found new homes.
We will never know what eventually happens with the 2000 Mets if they were able to use their assets to improve elsewhere. Keeping Mora would have been great, but even if they did deal him away in the same package, what more could they have gotten in return?
Want your voice heard? Join the Rising Apple team!
All of these years later, the 2000 World Series still seems to haunt the franchise. Until 2015, it was their lone realistic shot to win it all. The Ordonez injury was the first big domino to fall to suggest it wouldn't be their year.
Home
/
New York Mets History