NY Mets: Five best player walk-up songs of all-time in Mets history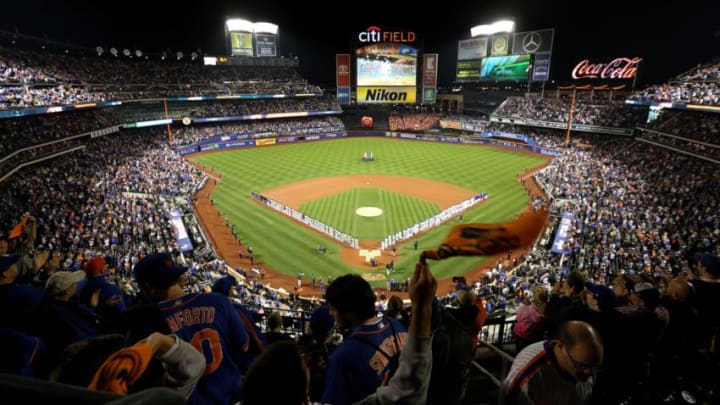 NEW YORK, NY - OCTOBER 05: A general view during pre-game ceremonies for the National League Wild Card game between the New York Mets and the San Francisco Giants at Citi Field on October 5, 2016 in New York City. (Photo by Michael Reaves/Getty Images) /
Lucas Duda has one of the best New York Mets walk-up songs of all-time (Photo by Mitchell Layton/Getty Images) /
The "walk-up song" is a player's way to show off a little bit of his personality. Relatively new to the baseball world, these are the top five in New York Mets history.
For the New York Mets, and pretty much every other major league baseball team, individual player walk-up songs are a fairly recent development. Teams have long had their own organists to provide a clever, upbeat soundtrack to the on-field action. In 1970, Nancy Faust for the Chicago White Sox was the first team organist to start playing different songs for each home player as they stepped up to the plate.
The tradition evolved throughout the 1990s when the Seattle Mariners were among the first baseball teams to experiment with recorded walk-up music for each player. When this tradition first began, the teams chose the walk-up music, not the players. But as time went on, players began seeing their walk-up song as a valuable way to focus and center themselves before every at-bat.
Now, practically every single major leaguer steps up to the plate with their personal anthem blaring through the stadium PA system. Mets players have had many memorable walk-up songs over the years, all with different meanings to the individual players. It's impossible to objectively rank which walk-up music is the "best." With that said, these five players all chose particularly iconic walk-up songs during their time in Flushing.
5) Lucas Duda – "All Along The Watchtower" by Jimi Hendrix
For the 7.5 years that he played in Flushing, Lucas Duda was never among the more publicly outgoing Mets players. His reserved personality hilariously manifested itself in the "We Follow Lucas Duda" Instagram account, which was created by teammates Curtis Granderson, John Mayberry Jr, and Danny Muno in July 2015 and gained over 100,000 loyal followers.
Despite his subdued nature, I always appreciated his awesome walk-up song, an iconic track by an all-time electric guitar god. In a 2018 interview while a member of the Kansas City Royals, Duda revealed that his walk-up song was a tribute to his dad. He explained that his dad always drove him to and from baseball practice as a kid and that songs like "All Along The Watchtower" would play frequently in the car on their rides together.
Though Duda is no longer in a Mets uniform, hearing this song always reminds me of him. "All Along The Watchtower" is the perfect walk-up music for a player like Duda, outwardly unassuming but always a power threat at the plate.
Home
/
New York Mets All-Time Lists