Mets History: Jack Fisher's connection to famous home runs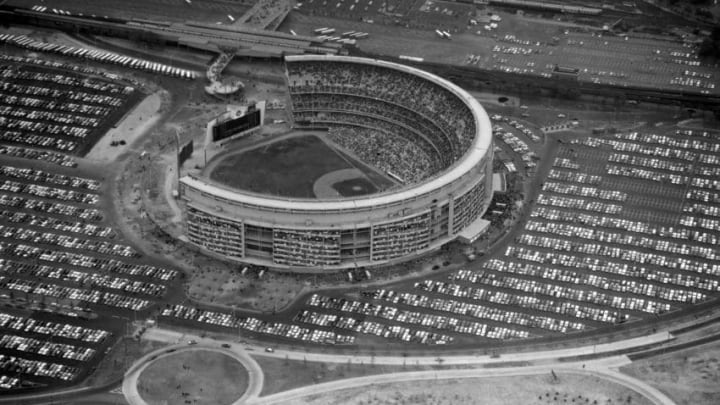 FLUSHING, NY - 1966: Aerial view of Shea Stadium, baseball home of the New York Mets of the National League taken during the 1966 season in Flushing, New York. (Photo by: Olen Collection/Diamond Images/Getty Images) /
Jack Fisher was one of the earliest pitchers in New York Mets history. He's better known for being on the wrong side of some historic home runs.
When thinking about the New York Mets players and famous home runs, Mike Piazza on 9/21/01 and David Wright in the 2015 World Series likely come to mind. On the flip side, there have been several Mets pitchers notorious for giving up infamous home runs, whether it was Aaron Heilman to Yadier Molina in 2006 or Roger McDowell to Terry Pendleton in 1987.
However, sometimes a pitcher gives up a home run that is historic just for the sake of being historic, without dooming either team's season. Even more occasionally, a major league pitcher is at the center of several historic home runs throughout his career, as seemingly the only common thread among them all.
That was the case for Jack Fisher, who found himself entangled with many famous home runs throughout his 11-year major league career. The righty pitcher first entered the big leagues in 1959 with the Baltimore Orioles. Just one year later, as his career was still taking shape, he started against the Boston Red Sox on September 28, 1960, as Ted Williams was finishing off a Hall of Fame career in Beantown.
Williams began the day with 520 home runs to his name. He came up against Fisher in the bottom of the 8th inning, having narrowly missed a homer in his previous at-bat. On a 1-1 count, Fisher fired a fastball at Williams. This time, the man known as "the greatest hitter who ever lived" did not miss his pitch. Williams hit a towering, majestic home run into the Red Sox bullpen. The crowd at Fenway Park cheered for what seemed like an eternity. It was the final at-bat of his major league career.
After the game, Williams was quoted as saying, "Baseball has given me everything I wanted." For Fisher though, the glorious game of baseball would have a lot more memorable moments in store.
Almost exactly one year later, on September 26, 1961, Fisher would find himself mixed up in another historic baseball event. Still pitching for the Orioles, he faced the Yankees at Yankee Stadium. All eyes that day were on Roger Maris. He was one home run away from tying Babe Ruth's single-season record of 60 home runs, a record that many baseball fans in Maris's time hoped would never be caught.
In the bottom of the third inning, Maris launched a pitch from Fisher into the famed short right field porch at Yankee Stadium for number 60. The season-long chase of the Great Bambino's home run record had reached a triumphant apex. Maris and teammate Mickey Mantle had both been chasing Ruth's record in 1961, but in that late September game, Maris had his day in the sun. A few days later, Maris would stand alone as the single-season home run king when he hit number 61 in the season's final game.
Years later, Fisher recalled that he knew the home run was coming as soon as he threw the pitch: "I wound up, and in the middle of my delivery, I decided to take a little bit off . . . As soon as I let it go, I knew I was in trouble. It was one of those you'd like to run down there and catch it."
After that unforgettable 1961 game, Fisher spent one more year in Baltimore before being traded to the San Francisco Giants, where he spent the 1963 season. Once that year concluded, the Amazins snagged him from the Giants in a special player draft meant for the two newest expansion teams, the Mets and the Houston Colt .45s.
Fisher was with the Mets through the 1967 season, but his most memorable moment in Queens came in his very first start. On April 17, 1964, Fisher made his debut for the Mets against the Pittsburgh Pirates. His Mets debut was somewhat overshadowed by the "debut" of Shea Stadium that same day. It did not take long for Fisher to surrender yet another historic home run, which came in the top of the second inning.
Leading off the second, Pirates slugger Willie Stargell hammered a pitch from Fisher into the right field seats at the cavernous Shea Stadium. It was the first home run at the young, freshly painted ballpark, and a third historic footnote in Fisher's baseball career.
Fisher had another role in baseball history that afternoon when he asked manager Casey Stengel if he could switch up his pregame warmup location.
"I asked Casey if it was okay to warm up in the bullpen [instead of on the field] to get away from the hustle and bustle and all the writers," he recollected in a 2009 Daily News article. "I guess I started something."
All current major league pitchers who take their pregame bullpen warmups for granted should thank Fisher for thinking that a little extra solitude before the game might help a starting pitcher be as focused as possible.
Fisher pitched in the major leagues until 1970 when he was released by the California Angels just before the season started. Though his major league career was more noteworthy for the home runs he gave up than for the pitching success he achieved, he appears to have come to terms with his legacy.
Want your voice heard? Join the Rising Apple team!
"People are going to remember you however they want to remember you," Fisher told the Baltimore Sun in 2010. "I can live with that."
Home
/
New York Mets History