Mets: A sophomore slump from Pete Alonso would still be dominant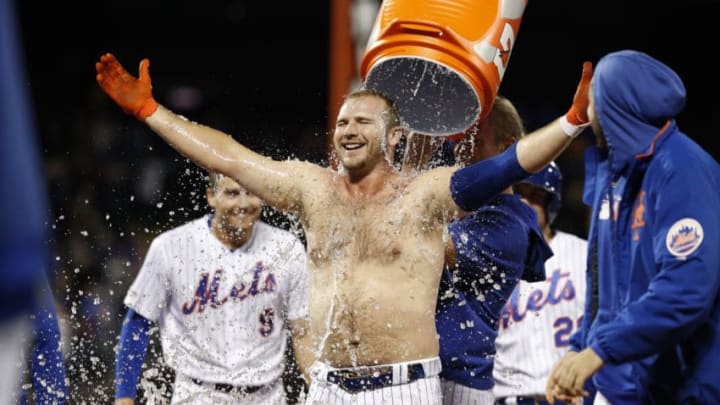 NEW YORK, NEW YORK - SEPTEMBER 06: Pete Alonso #20 of the New York Mets celebrates with teammates after defeating the Philadelphia Phillies 5-4 during a game at Citi Field on September 06, 2019 in New York City. (Photo by Michael Owens/Getty Images) /
A sophomore slump from New York Mets slugger Pete Alonso in 2020 would be far from disastrous with the weapons he has.
It is hard to analyze how the 2020 season will turn out for the New York Mets right now with so much uncertainty. Especially with the season probably being cut in half, it will be difficult to determine what individual statistics and milestones mean for baseball players this upcoming summer.
Every baseball fan knows the ridiculously successful season Pete Alonso experienced in 2019, yet almost most every notable Rookie of the Year recipient has experienced a sophomore slump. It happened to Aaron Judge and Cody Bellinger among many others.
But will it happen to Pete Alonso? How will it affect the Mets in the 2020 season taking into account the later start date this upcoming season? Let's take a closer look.
More from Rising Apple
Despite only batting .260 his rookie season it's pretty hard to ignore Alonso's 53 home runs, 120 RBI and .941 OPS in 2019, as well as his Home Run Derby win.
The big debate regarding Alonso this offseason has been, will he come back better than ever or experience a sophomore slump as many elite rookies have.
I think it's inevitable with the kind of season Alonso had last year but I don't think that should negate the other outstanding things he can accomplish.
Alonso has mentioned numerous times how hard he has been working to be more dominant defensively at first base and how he's aiming to win a Gold Glove. I believe that even if Alonso doesn't rack in the runs as frequently as last season he will still be someone to watch closely this season.
Alonso struggled to get into a grove as a first baseman at the beginning of his rookie season. If he ends up being a little more precise and attentive he has the potential to really add to his value to the team this upcoming season.
I would also really like to see Alonso become a more consistent hitter and have a better eye for the ball than either striking out or hitting a run. That was one of the main things Alonso struggled with last season: reaching for balls too frequently. It was the reasoning behind his rather mundane batting average leading him to rank third in the MLB in strikeouts.
One the season starts we really have to take many statistics and put them into perspective especially at the beginning as the season as a whole is going to be strange for a while as we are in uncharted territory with the delays cutting spring training as well short.
Many of the usual statistics like RBI as well as home runs are going to have to be analyzed differently with a new structure to the season.
Want your voice heard? Join the Rising Apple team!
Overall, I am very excited about the upcoming season as well as for literally any sport to start again. Due to the type of player and person he is, I believe Alonso will not only be a dominant player on the field, and in the box. I believe he will become the much more well-rounded player the Mets need right now to be successful.