Three Mets league leading statistics we don't want to see again in 2020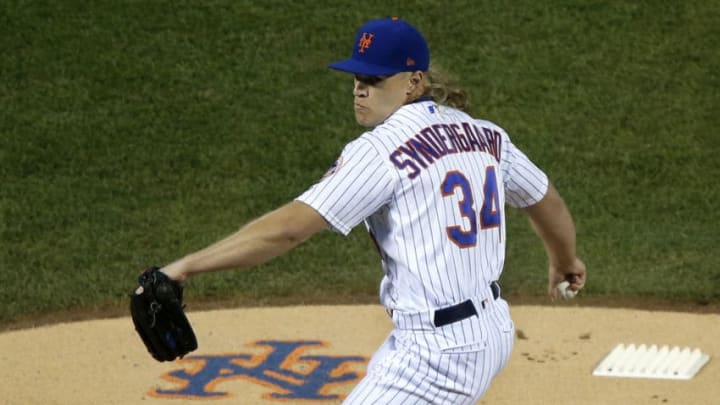 NEW YORK, NEW YORK - SEPTEMBER 13: Noah Syndergaard #34 of the New York Mets in action against the Los Angeles Dodgers at Citi Field on September 13, 2019 in New York City. The Dodgers defeated the Mets 9-2. (Photo by Jim McIsaac/Getty Images) /
Not all statistics are ones you want to lead the league in. Last year, there were three numbers led by members of the New York Mets we would rather not see from them again in 2020.
Growing up, you probably found yourself on weekends looking in the newspaper at the league leaders in baseball. If you saw the NYM list in the team column, you knew someone from the New York Mets was doing well.
Technology has advanced to the point where newspapers are far less paper and still a little less news. Everything is online now and this gives us a chance to reverse statistics and see the other side of league leaders: the ugly stats nobody wants published.
Thanks to the internet, we can almost immediately see which Mets are at the bottom of the league in a specific number. Last year, in spite of a good stretch at the end of the season, there were a few members of this team who led the National League in numbers we will undoubtedly hope they do not repeat in 2020.
League Leading Earned Runs
Did you know Noah Syndergaard led the National League in earned runs last year? Despite a 4.28 ERA which seems about average or slightly below it, Thor was knocked around for the most earned runs in 2019.
The 94 he surrendered was way above his previous high of 54 given up as a rookie back in 2015.
Fortunately, all of these runs allowed does mean Syndergaard stayed healthy. Because he gave up so many home runs, it's also clear what he needs to do to avoid another year at the top of this list: keep the ball in the yard.
Caught Stealing
The Mets aren't known for stealing bases. One guy who can swipe an extra bag every once in a while is shortstop Amed Rosario. He successfully stole a team-best 19 for the 2019 squad.
However, Rosario was also thrown out 10 times which led all of baseball.
I like to see a fast guy like Rosario use his speed on offense. It's necessary especially when the rest of the team lacks a true stolen base threat. Hopefully, there's someone around Rosario who can help teach him to make better decisions on the base paths.
Stolen Bases Against
Syndergaard has become a mainstay in this statistic. It doesn't seem to matter who the catcher is. You can almost guarantee Thor will either be number one or near it in stolen bases against.
In 2019, 42 base runners stole a bag when he was on the mound. Amazingly, only three were caught all year long. For some perspective, Yu Darvish and Jacob deGrom were tied for the second-most stolen bases against at 24.
This is the second straight year Syndergaard has led the National League in this category and the third time in his career. If he had stayed healthy in 2017, I have no doubt he would have led that season, too.
Want your voice heard? Join the Rising Apple team!
After 162 games are played in 2020, it would be nice to see the Mets at the top of plenty of individual numbers. If there's a trade to be made, I'm sure Syndergaard and Rosario would take their lumps and see their name at number one in these statistical categories if they can find themselves atop the National League East.