Mets Rumors
Mets Trade Rumors: Brodie Van Wagenen's attempt to land Mookie Betts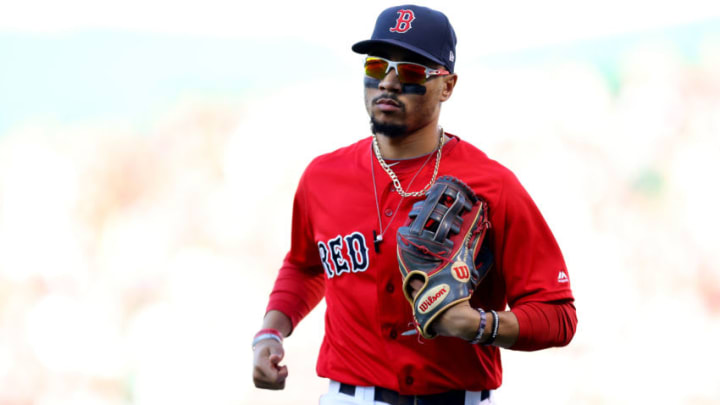 BOSTON, MASSACHUSETTS - SEPTEMBER 29: Mookie Betts #50 of the Boston Red Sox runs to the dugout during the fifth inning against the Baltimore Orioles at Fenway Park on September 29, 2019 in Boston, Massachusetts. (Photo by Maddie Meyer/Getty Images)
According to recent New York Mets trade rumors, before Mookie Betts went from the Boston Red Sox to the Los Angeles Dodgers, Brodie Van Wagenen made an attempt to snag the 2018 AL MVP.
It seems like 90% of New York Mets trade rumors are about a superstar the team tried to acquire yet never did. Not long ago, we learned what the Cleveland Indians were asking from the Mets in exchange for star shortstop Francisco Lindor. The more recent Mets trade rumors give us a glimpse into what the Boston Red Sox wanted from them for Mookie Betts.
Betts was recently traded to the Los Angeles Dodgers. One of the best players in baseball is changing coasts for the 2020 season, one year before becoming a free agent.
The impact Betts would have had in orange and blue would have been significant. He would have filled the organization's need for a center fielder and given this team its second great Mookie.
More from Rising Apple
Why isn't Betts in a Mets' uniform for the 2020 season? The reason is Jeff McNeil.
The Flying Squirrel isn't to blame. According to the Mets trade rumors from Joel Sherman of the New York Post, McNeil was a must in any trade for Betts. I can't blame Red Sox General Manager Chaim Bloom. McNeil is one of the best hitters in baseball and he's affordable. He's exactly what the Red Sox need right now.
Just like the Lindor trade, BVW was unwilling to part with McNeil thus ending the trade negotiations. The Promotions Department can breathe a sigh of relief. All of their Squirrel related giveaways can still happen.
What the Mets did offer the Red Sox was still pretty decent. The deal would have included Brandon Nimmo and J.D. Davis plus either Andres Gimenez or Ronny Mauricio.
While no one in this deal touches what Betts can do, Nimmo and Davis would round out their roster quite well. Plus the possibility of Gimenez and Mauricio reaching their potential is certainly intriguing.
Instead, the Red Sox went more toward prospects in the deal they eventually did make with the Dodgers. The highly-talked about trade which looked like it was falling apart at first did eventually get done. Credit the Red Sox for insisting that 2020 is a lost season.
From the start of our dreams of seeing Betts in a Mets' uniform, the problem has always been how close he is to free agency. When Steve Cohen looked like he was on his way, it made sense for us to wait until Betts becomes available next winter. Now, I'm not so sure we'll ever see him play for this team.
Want your voice heard? Join the Rising Apple team!
Most Mets trade rumors of the past month have been about how busy the front office was back in December. Although we could still see a deal take place before Opening Day, it's feeling more and more like the 2020 roster is practically set with the possibility of a few changes before camp breaks.