Mets prospect Brett Baty already has some valuable baseball cards selling on eBay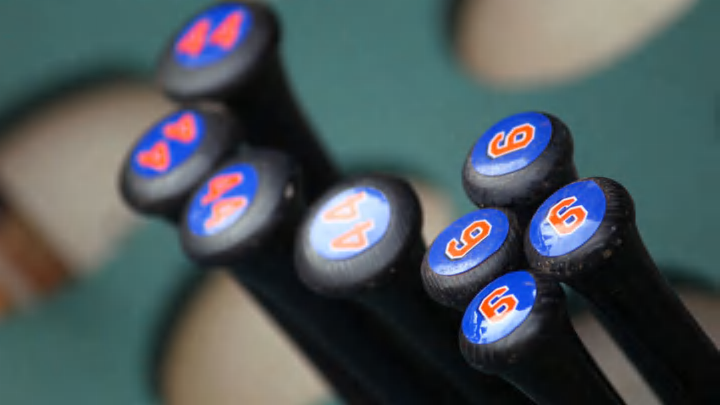 PHILADELPHIA, PA - APRIL 15: New York Mets bats in the dugout before the start of their MLB baseball game against the Philadelphia Phillies on April 15, 2012 at Citizens Bank Park in Philadelphia, Pennsylvania. (Photo by Rich Schultz/Getty Images) /
If you have an extra $1,800 lying around, you might want to think about adding this baseball card of New York Mets prospect Brett Baty to your collection.
New York Mets prospect Brett Baty is years away from starring in the big leagues—if he ever gets there at all. The first-round pick from 2019 is already drawing some hype, especially in the baseball card collecting world.
Yes, people still collect baseball cards. And yes, there are some out there who believe in Baty enough to spend thousands of dollars on a piece of cardboard with his image and signature on it.
While perusing eBay, I happened to come across some valuable Baty items which have sold in recent months. There are several autographed cards of his which have been listed as high as $16,000. However, it looks like the seller accepted a "best offer" instead of the full asking price.
Still, there are items of Baty's that have sold for four-figures. After 17 bids, a 2019 Bowman Draft card autographed by Baty went for $1,836.88 plus $35 shipping.
Why the high price? It's a specialized card with only 25 in existence. The buyer appears to have some high expectations for Baty or maybe it's just a girl he turned down for the high school prom longing for his attention.
Either way, it's a pretty penny for a guy with zero MLB at-bats and only a small number of games as a professional.
When it comes to any collectible, supply and demand lead the way. Baseball card collectors tend to favor high-level prospects as much as they do stars of the past. The rarity of an item is what matters most and whoever spent $1,836.88 plus $35 shipping may believe that one this Mets prospect becomes a star of the past.
By then, I just hope they're alive to turn this big expense into something else: like a mortgage payment.
Want your voice heard? Join the Rising Apple team!
At the very least, I wish the buyer well in sticking around long enough to see Baty become a star for the Mets. For the sake of this collector, my fingers are crossed Baty becomes more than just an average player.