Why the Mets should sign Cuban dual role star Oscar Colas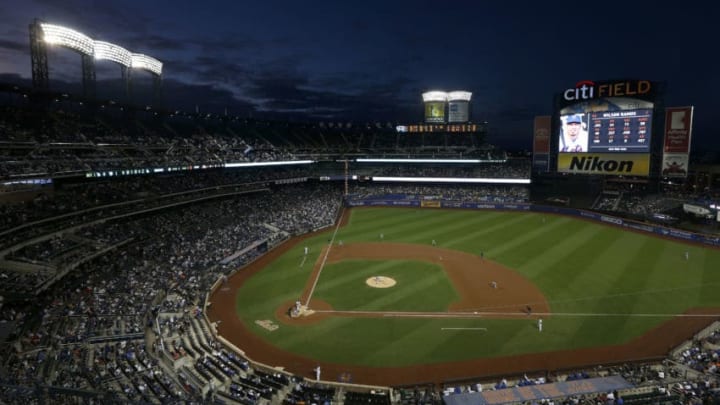 NEW YORK, NEW YORK - SEPTEMBER 13: A general view as Clayton Kershaw #22 of the Los Angeles Dodgers pitches to Wilson Ramos #40 of the New York Mets during the first inning of their game at Citi Field on September 13, 2019 in New York City. (Photo by Jim McIsaac/Getty Images) /
Oscar Colas is headed to Major League Baseball from Cuba and I want to see him on the New York Mets.
As a huge fan of Shohei Ohtani and fascinated by dual role MLB talent, I think it is finally time for the New York Mets to get on board with this growing trend and sign their first dual role two-way impact player. Straight out of Cuba, there is a 21-year-old talent who is considered not just a top-tier hitter and outfielder but also has the potential to be an MLB quality pitcher.
His name is Oscar Colas and he is built like an NFL running back at 6-foot-1 and 210 pounds. Scouts call him one of the best prospects to come out of Cuba in a long time. Colas left Cuba last week and is looking to latch on with an MLB team as soon as possible.
There will be some speed bumps along the way with Colas having to establish residency in another country before being eligible to sign with an MLB ball club. He will probably have to wait until July 2020 when teams international pool money resets and becomes available, but the Mets should get themselves ready now to make the type of international splash they haven't made in a while.
More from Rising Apple
Colas has been honing his skills in Japanese minor leagues since 2017, playing for the Fukuoka Softbank Hawks of the Japanese Western League and also had a cup of coffee in the Japanese Pacific League.
He looks to be a solid hitter based on his 2019 slash line of .300/.353/.511/.864 with 12 home runs and 48 runs batted in over 295 plate appearances.
As a lefty thrower, he can play right field and first base. I'm not familiar with what kind of fielder he is, but the rumor is that he plus range and outstanding arm throwing from the outfield. We'll have to wait and see.
Even though Colas hasn't been asked to pitch in Japan, scouts say he is a hard-throwing lefty who can reach 95 mph with his fastball. Not sure how that would translate in MLB, but his talent definitely intrigues me and should also spark the interest of the Mets front office.
As we move to the future, I believe that dual role or two-way players will become much more common and is something that most ball clubs will look to embrace. Especially since teams have been are asking less and less of starting pitchers over the past couple of years.
Lately, if a pitcher goes 7 innings it seems like a big accomplishment and pitchers today rarely get to 200 innings pitched over a complete season of 32 or 33 starts.
With teams needing more and more pitching and being extremely careful with inning limits and pitch counts, it is in a team's best interest to have players that can do it all. The ability to play the field, be an MLB-quality hitter, and pitch quality innings are something that will be more common as we move into the 2020s and beyond.
Want your voice heard? Join the Rising Apple team!
With MLB being a copycat league, it is time for the Mets to be more of a leader when it comes to dual role players, instead of waiting too long and becoming the followers of other teams in this growing fad.