New York Mets Secret Santa: Christmas gifts for players and front office staff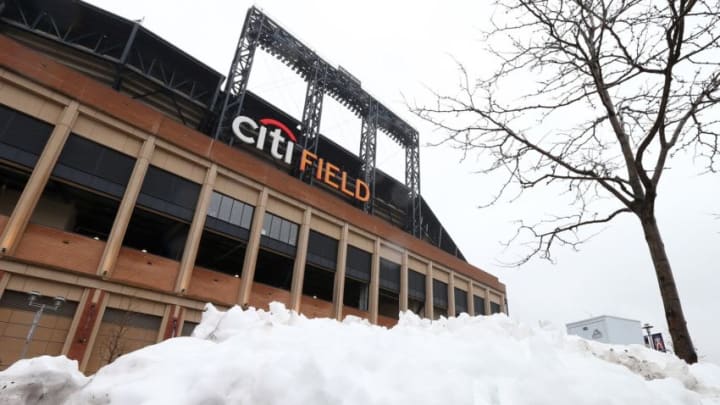 NEW YORK, NY - APRIL 03: Piles of snow sit outside Citi Field before a game between the Philadelphia Phillies and New York Mets on April 3, 2018 in the Flushing neighborhood of the Queens borough of New York City. (Photo by Rich Schultz/Getty Images) /
It's time for members of the New York Mets roster and front office to unwrap some Christmas gifts.
What happens when you're the Secret Santa for the New York Mets? You ask Santa to help you carry a big sleigh to Citi Field to hand out those gifts. But first, let's light the yule log and set the mood.
'Twas the night before Christmas, when all through Citifield,
Not a player was stirring, not even ones from the IL who have healed.
The stirrups were hung by the dugout with care,
In hopes that the Wilpons, no expense they will spare.
The fans were nestled all snug by their beds,
While visions of World Series wins danced in their heads.
And Mrs. Met in her kerchief and Mr. Met in his cap,
Had just settle down for a long winter's nap.
When out on the lawn there arose such a clatter,
I sprang from the bed to see what was the matter.
Away to the window I flew like a flash,
Tore open the shutters and threw up the sash.
The moon on the breast of the new-fallen snow
Gave the lustre of mid-day to objects below
When, what to my wondering eyes should appear,
But of news of roster upgrades, and some new relievers that opposing batters fear.
Let's unwrap some presents.
Ownership

Need to get Jeff Wilpon the desire to actually win. Or some type of silent whistle that could be used to distract him when he looks to interfere with any baseball-related decision.
Manager and GM
Carlos Beltran's gift is a time machine so he can go back to October 19, 2006, and swing at that Adam Wainwright curveball. Maybe he can lend the time machine to Brodie Van Wagenen so he can go back a couple of weeks to hire Joe Girardi as the manager and Beltran as the bench coach.
Historical Gift
We can use Carlos Beltran's time machine to go back to July 28, 1996, to prevent the Jeff Kent trade, December 9, 1971, to prevent the Nolan Ryan trade, and June 14, 1977, to prevent the Tom Seaver trade.
In addition to this, we can also use the time machine to go back to December 25, 1919, to convince the owner of the Red Sox not to sell Babe Ruth to the New York Yankees for $100,000. Hopefully, Beltran is feeling festive and willing to share his time machine.
Catcher
Wilson Ramos gets a private catcher lesson so he can learn how to properly receive the ball. Maybe Johnny Bench could be made available to work with Ramos, so Jacob deGrom and Noah Syndergaard will want to pitch to him in 2020.
For Tomas Nido, I have a corked bat.
First Base
Pete Alonso opens up a Captain America shield for his back so he doesn't injure himself with his ridiculously hard backswing.
Second Base
Jeff McNeil will get a magical device where he presses a button and Robinson Cano all of the sudden tears up his no-trade clause and is not making $96,000,000 over the next four seasons. Or we can use Carlos Beltran's time machine again to go back to last winter to prevent that Cano/Diaz for Jarred Kelenic trade from ever happening.
Maybe he can get a gift card and choose which one he prefers.
Shortstop
Over at shortstop, Amed Rosario gets a 13-inch glove so he can reach ground balls hit to his right. And some type of high-tech advanced goggles which tells him which direction the ball is going so he can get a good read off the bat.
Grab Bag Gift
Wilson Ramos, Robinson Cano, and Yoenis Cespedes all receive a jet-pack that they can use to fly down to first base on ground balls or dropped third strikes. This way, we don't have to watch them jog, walk or not even bother to move anymore.
Third Base
For David Wright, we get an Iron Man suit so he can come out of retirement and finish his Mets career with some solid years to hopefully make the Hall of Fame.
Outfielders
J.D. Davis and Michael Conforto get a no-trade clause for their contracts.
Brandon Nimmo will get some private batting lessons with Wade Boggs so he can learn how to not be so passive at the plate and which pitches to actually swing at.
Starting Pitchers
Jacob deGrom gets a magical device where he presses a button to instantly create run support. So before he takes the mound, he can press the button, and have a 4 or 5 run lead for the first time in a couple of years and maybe win 20+ games in 2020.
Noah Syndergaard will receive a bionic third eye so he can keep baserunners close and actually pick someone off for the first time. Also, he needs to have Al Leiter explain to him how and why he needs to throw some waste pitches on 0-2 and 1-2 counts.
Steven Matz, he gets a sense of urgency.
Bullpen
For Edwin Diaz I got a couple of the Nintendo Mario Super Sluggers baseball outfielders that can jump on each other's head to prevent home runs when he hangs his slider.
Jeurys Familia gets a magnetic baseball (along with a metal-plated glove for whoever is catching) so he doesn't walk close to a batter per inning in 2020.
An Extra Gift Under the Tree
Under the tree is a gift from 1998. It's for John Olerud. It's a helmet that looks like a hat. Olerud is one of my favorite Mets of all-time but the helmet in the field, yes was needed, but always drove me crazy.
Mets Fans
Finally, for Mets fans, we 26 more World Championships so we can finally tell all those Yankee fans to finally be quiet.
Want your voice heard? Join the Rising Apple team!
Merry Christmas, Mets fans!