Mets have an identity for 2020, something they lacked before 2019 began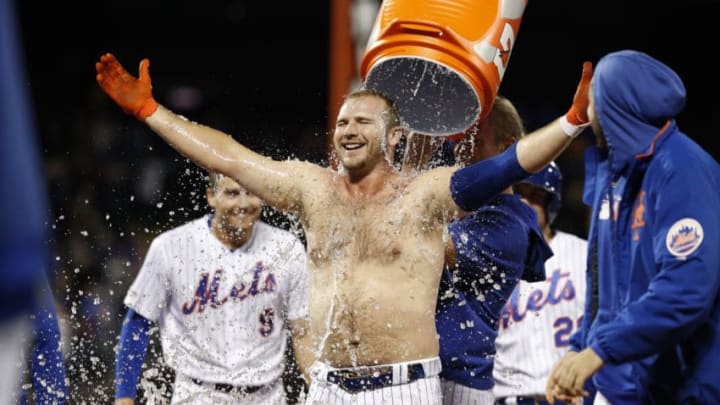 NEW YORK, NEW YORK - SEPTEMBER 06: Pete Alonso #20 of the New York Mets celebrates with teammates after defeating the Philadelphia Phillies 5-4 during a game at Citi Field on September 06, 2019 in New York City. (Photo by Michael Owens/Getty Images) /
Thanks to some new faces who look like core members of the franchise, the 2020 New York Mets may already have their identity.
Having an identity is not always going to lead a team to a championship. It helps, though. It creates a bond, chemistry, and gets the fans even more into the season than they normally do with a team with no distinguishable characteristics. The 2020 New York Mets may be fortunate to have their identity already lined up.
Coming into 2019, I didn't know who these Mets were. There were a lot of new faces in the dugout and front office to have a clear expectation. As this season has unfolded, we've seen a lot more personality than we did in 2018. Pete Alonso has become a leader. J.D. Davis has shown he can be a wild man. Regardless of who the manager is next year, this squad has an identity in place.
We saw just how much this team's record can shift from the acquisition of one player. When the Mets landed Marcus Stroman, his big personality factored into their winning streak. I believe in the post-David Wright playing days (I don't count 2018), this is a team that has lacked direction. Instead of leaning heavily on veterans for this leadership, younger Mets players have stepped up and become their own voice.
More from Rising Apple
Last October I wrote about how much the Mets needed an edge. Noah Syndergaard brings one to the mound with his intimidating presence. Despite owning a million-dollar smile, Jacob deGrom also has the same tenacity as anyone else when there's a baseball in his hand.
These Mets aren't whiners. Maybe they're not quite winners to the extent we want them to be, but they are well on the way to becoming one of the best teams in baseball.
General Manager Brodie Van Wagenen and Mickey Callaway each deserve bad grades for 2019. However, one thing they did well was to keep things positive.
At times cheesy, the Mets have focused on the bright side throughout 2019. Callaway got under our skin plenty with his public denial that anything was wrong. Van Wagenen's mouth seemed to spew nothing but positivity even when the team struggled to win a game for days at a time.
A funny thing happened. It rubbed off on the players. Dominic Smith hasn't played for weeks and yet we still see and hear him supporting the team. Michael Conforto and Jeff McNeil are a bundle of positive energy and two guys who have played wherever asked of them this year—the Flying Squirrel to a larger extent.
We don't know for sure exactly who the Mets will have on their roster in 2020. There's turnover every season for a team, but for this squad, the core is already there.
Want your voice heard? Join the Rising Apple team!
With this core is an exciting crop of players who won't hesitate to rip each other's shirts off with a victory. Some may find it classless or irritating. To me, it's grown men having fun and showing the fans they care about winning.