New York Mets News
Mets must explore cutting their losses and dump Jed Lowrie via trade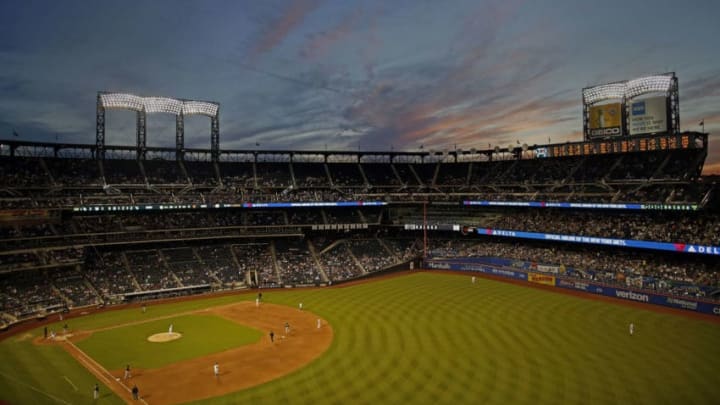 NEW YORK, NY - JUNE 8: Steven Matz #32 of the New York Mets pitches during the fourth inning as the sunsets against the Colorado Rockies at Citi Field on June 8, 2019 in the Flushing neighborhood of the Queens borough of New York City. (Photo by Adam Hunger/Getty Images)
Jed Lowrie gave the New York Mets absolutely nothing in 2019. With no real need for him in 2020, the team needs to explore the possibility of dumping him somewhere else.
Jed Lowrie, we hardly know ye. After spending nearly all of the 2019 season on the IL, Lowrie joined the New York Mets active roster for the first time on September 7th. The lengthy absence was often the punchline to jokes—even ones told by fans of his team. How could Mets fans not laugh to stop from crying?
The $20 million deal spread out over two seasons was a complete waste in year one. With any luck, there's no year two.
Ridiculous trades are a staple of sports talk. Whether it's devaluing another team's players, overvaluing your own, or not understanding the economics of the situation, there's no shortage of silly trades in the minds of sports fans. I won't go into what the Mets should look to acquire in a potential Lowrie deal or even suggest trading him is something they will do. Rather, let's for a second remember who this guy is.
More from Rising Apple
Lowrie is a one-time All-Star who has been in the big leagues since 2008. In more than a decade of MLB history, he has only played in 100+ games four times. Injuries or a part-time role largely due to performance limited how often he got to see action.
Don't be fooled by his impressive 2018 season at age 34. This was apparently a last hoorah. This was a trip to the buffet on a Sunday right before you start your new diet. To believe he has anything left in the tank is a little too optimistic for me—and I burp rainbows.
Brodie Van Wagenen strikes me as someone who will double-down on his decisions. So, a Lowrie trade feels unlikely even if the team is reportedly looking into dumping him or Jeurys Familia.
What's more, I cannot imagine a team taking on a large portion of his salary until he proves he is healthy. In order to prove this, he'll need to play consistently in 2020. In which case, he's opening the year on the Mets' payroll.
The Mets can't wait until then to move on from Lowrie. Clearly the wrong choice in a market which also featured DJ LeMahieu, Marwin Gonzalez, and others this past winter, BVW screwed his team by going with his ex-client over any of these other guys. What hurts most is how Lowrie was never really a good fit for the team. They already had Todd Frazier on the roster. Albeit, Frazier looked like a far weaker player on paper than Lowrie could have been; if only his legs were made out of titanium.
And that's the whole point of trying to move on from Lowrie. The Mets spent $20 million on him and got as much as Charlie Bucket believed he was getting from Willy Wonka; nothing.
Entering his age 36 season in 2020, it's impossible to picture a scenario where he produces at a high level. In Frazier's absence, the team can move forward with J.D. Davis or Jeff McNeil as the everyday third baseman. They don't need Lowrie and his history of getting hurt.
Realistically, the best the Mets can do is finding a player on another team in a similar position or pair him with Dominic Smith or another talented player as they are potentially looking to do. Nobody will eat Lowrie's salary. So, swapping him with a guy another team wants to move is the best bet.
Give me an outfielder with some speed and a glove or a relief pitcher who can maybe pitch to a 4.00 ERA. Since Lowrie missed so much time in 2019, it may need to be someone who also has questionable health.
Want your voice heard? Join the Rising Apple team!
Otherwise, the Mets will need to cross their fingers and hope Lowrie can do next season what he was unable to accomplish in 2019. And that's give them anything at all.