Mets: Brodie Van Wagenen needs hire a manager he can work with, not above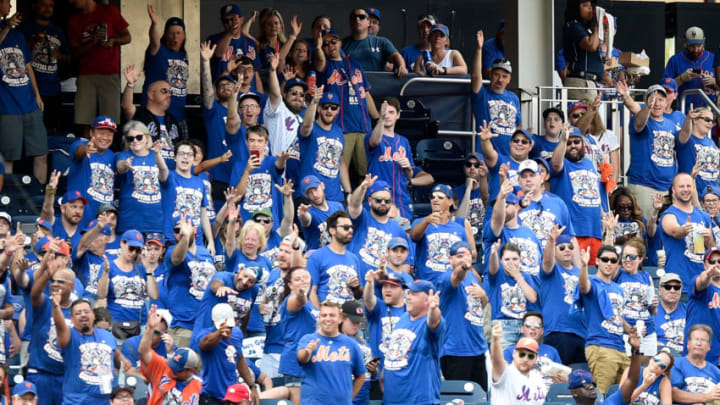 WASHINGTON, DC - SEPTEMBER 02: New York Mets fans cheer in the sixth inning of the game against the Washington Nationals at Nationals Park on September 2, 2019 in Washington, DC. (Photo by Greg Fiume/Getty Images) /
The New York Mets need a new manager. General Manager Brodie Van Wagenen needs to accept the shared responsibility for this team and hire a proven man for the job.
Winter has come for the New York Mets and the first major storyline is their search for a new manager. Mickey Callaway survived a few days past game 162 before he was relieved of his duties after two years.
The search is on for the new driver and Brodie Van Wagenen will have an opportunity to "pick his guy."
There is some thought Van Wagenen will select a manager he can, for lack of a better word, control. We've seen a growing trend around Major League Baseball where general managers are the ones with the majority of the power. Managers have been relegated to playing the role of puppet.
More from Rising Apple
This can work in some scenarios. The New York Yankees have had success with the pairing of experienced general manager Brian Cashman and first-time manager Aaron Boone. They work well together because of Cashman's years of experience as a general manager. Van Wagenen doesn't have this attribute.
It's nice to have control, but the better philosophy would be to hire someone BVW can work with rather than work above. General managers and field managers feel further away in terms of responsibility than ever before. Van Wagenen could benefit greatly from a willingness to hire someone he can actually learn a few things from.
To accomplish this, Van Wagenen will need to set aside his ego. We all know he has one. His body language and success as an agent is proof enough. It's not a bad thing either. Van Wagenen's inflated head is what landed him where he is now.
Sometimes, though, you have to temper those good qualities. Rather than go with a manager who becomes a "yes man" I would like to see BVW attempt to build his legacy with a known commodity. Van Wagenen could look like a genius if he hires a first-time manager and it works. He'd look even smarter by doing the obvious and adding a proven manager to his payroll.
First-time managers are impossible to figure out. You never know until they get the job. For the Mets, they are in a position where they could greatly benefit from having a guy with far fewer questionable managerial decisions than what we saw the past two seasons. They need a guy who is sure of himself. Callaway rarely came off that way.
Building a staff or a baseball team from the ground up is a great accomplishment. The better one is winning a championship. The fastest and most effective way to do this is to realize your legacy can be the part of someone else's.
Want your voice heard? Join the Rising Apple team!
There's no benefit to being the smartest person in the room, which at times, it felt like was BVW's goal. Instead, just hire the guy who can get the job done with the least amount of interference. The best way to build a legacy is to have someone else do the heavy lifting. As a general manager, you'll still be known as the guy who made it happen in the first place.