Mets: Aftermath of the 2019 trade deadline is good news and bad news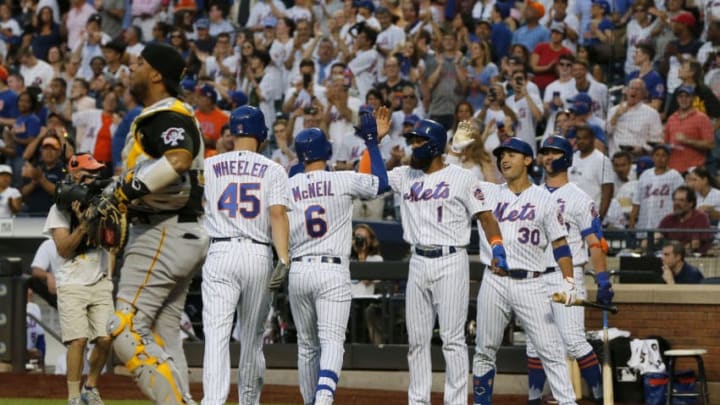 NEW YORK, NEW YORK - JULY 26: Elias Diaz #32 of the Pittsburgh Pirates looks on as Jeff McNeil #6 of the New York Mets celebrates his third inning three run home run with teammates Zack Wheeler #45, Amed Rosario #1, Michael Conforto #30 and Pete Alonso #20 at Citi Field on July 26, 2019 in New York City. (Photo by Jim McIsaac/Getty Images) /
It's StroTime in Flushing as the New York Mets shock everyone and trade for Marcus Stroman. And of all the players the Mets talked about trading they only dealt away Jason Vargas.
My take on the trade deadline moves is one of those good news, bad news jokes. New York Mets General Manager Brodie Van Wagenen's spin that this is what they planned all along is one weird thing that has a grain of truth in it.
Yes, the Mets improved for 2019 and have a better chance of making the postseason because Marcus Stroman is much better than Jason Vargas. The bad news is that the bullpen and the bench are as thin as paint and the farm does not offer much help.
And yes, the Mets improved for 2020 because Stroman is better than Wheeler and replacing Vargas shouldn't be too hard. Wheeler may even stay if the Mets either extend him or offer him a qualifying offer and he accepts. More importantly, there is an entire offseason to improve for 2020.
By next season the bench should be much improved since Nimmo, Lowrie, and Dom Smith are likely to be available with Frazier and Lagares the only players leaving for sure. And there are always decent role players available in the free agent market.
Here is the really bad news. Jeff Wilpon is still calling the shots and I have next to zero confidence in his willingness to spend money to give the team a legitimate chance to win next season or any season after that.
That's the bottom line, Jeff's favorite line.
2020 expectations
I believe in the core of Jacob deGrom, Noah Syndergaard, Michael Conforto, Jeff McNeil, Pete Alonso, JD Davis, Tomas Nido, Seth Lugo, and Edwin Diaz.
I believe in Amed Rosario's offensive improvement and potential as well as his potential to be an above average defensive center fielder.
The Mets could contend in 2020 if they keep Wheeler or replace him with someone better, trade Wilson Ramos, add two high-leverage relievers, and some rotation depth.
They also need to emphasize defense more than they have in years, such as adding a starting shortstop along the lines of Jose Iglesias, Miguel Rojas, or my man Luis Guillorme. I believe that Guillorme's offense could be more than acceptable if playing regularly and his defense would stabilize the infield to improve all the pitchers' performances.
All of this is totally doable if the Wilpons choose to spend money toward winning games instead of tabloid back pages.
Want your voice heard? Join the Rising Apple team!
Then there's the question of what would Van Wagenen do if he ever had the full support of willing-to-spend owners. Honestly, I have no idea. It's hard to see the people behind all the marionette strings.