New York Mets have a perfect trade piece for the Tampa Bay Rays to covet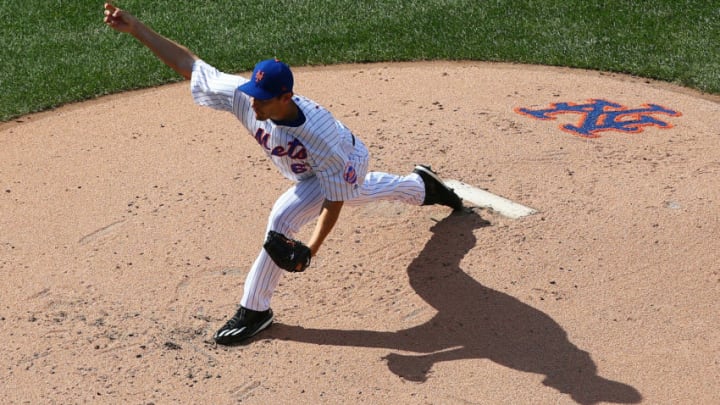 NEW YORK, NEW YORK - AUGUST 05: Seth Lugo #67 of the New York Mets pitches in the second inning against the Los Angeles Dodgers at Citi Field on August 5, 2017 in the Flushing neighborhood of the Queens borough of New York City. (Photo by Mike Stobe/Getty Images) /
The Tampa Bay Rays are looking to buy this month and the New York Mets have a player who might fit in with them perfectly.
The Tampa Bay Rays have again performed like a playoff team this year despite lacking true star power. In a year where reigning AL Cy Young winner Blake Snell has taken several steps backward, the team has somehow managed to stay very much alive in the playoff hunt. Other starters have stepped up and they have gotten contributions in many forms. The same cannot be said of the New York Mets whose battle to finish the year at .500 is already a challenge.
The Rays are one of the best organizations at developing young talent. Their evaluation of other castoffs seems like it's better than most, too. They've won plenty of recent deals including one last year that sent Chris Archer to the Pittsburgh Pirates. This month, do they try to swipe something away from the Mets?
Starting pitching is not an issue for Tampa Bay and their unorthodox invention of the opener. Given this, I'm not sure how much we could expect them to pursue any of the available Mets starting pitchers. A rental like Zack Wheeler makes little sense for them. A controllable asset, such as Noah Syndergaard, may.
More from Rising Apple
The Rays have four pitchers who have made 10+ starts this season. Tyler Glasnow is near the total with 8 and opener Ryan Stanek is among those who have reached double-digits. Another starting pitcher on the cheap could help add some depth to the pitching staff. The guys the Mets have available probably aren't a fit for this.
Well, what else ya got?
The other trade pieces we should expect the Mets to shop are pending free agents Todd Frazier and Jason Vargas. Vargas is a starting pitcher, so let's cross his name off the list. As for Frazier, I do believe he could become a good corner infield option off the bench. However, I don't think he's someone the Rays would go after the same way they targeted Lucas Duda in 2017. I could be wrong and maybe the Mets end up with whoever is their Drew Smith at the moment.
One guy I do see as a perfect fit for the Rays is Seth Lugo. On the exclusive basis of their opener use, he's the perfect bullpen arm for them to carry. Whether or not the Mets make him available is unclear. If I had to guess, he's staying in New York.
But what if Brodie Van Wagenen surprises us all and moves the most reliable bullpen piece of 2019?
Lugo turns 30 in November and is a 34th round late-bloomer who crept up to the major leagues despite pedestrian minor league numbers. Despite this, he has become a good bullpen arm. In Tampa Bay, he may be much more.
Next year is the first arbitration-eligible season for Lugo. There are years of control and no reason to move him for anything less than a favorable return. Even if he becomes a middle-reliever with All-Star appearances, he's not going to bankrupt a team.
The Rays are a franchise that attracts wins but never seems to do so with fans for a variety of reasons. Lugo isn't the missing piece to put them over the top. He can still help them get there over the next few seasons as an option to either pitch as a starter or reliever.
I understand Lugo doesn't fit exactly into what the opener spot has become. Often, a guy goes one or two innings then the next man marches to the mound. The Rays could deploy Lugo for a third inning even if he's not the one to begin the game. Certainly capable of reaching triple-digit frames, Lugo can deliver more quality innings than your average relief arm.
Everyone has a price. If the Rays front office believe they need to add a pitcher who can excel in any role, Lugo is someone they should highly consider.
Want your voice heard? Join the Rising Apple team!
Meanwhile, over in Flushing, I would hope the Mets aren't ready to slash any prices.