New York Mets sluggers who led the league in home runs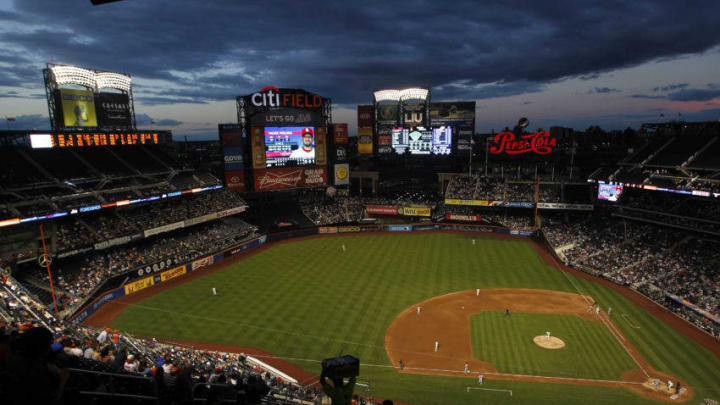 NEW YORK, NY - JUNE 11: General view of Citi Field as the St. Louis Cardinals play the New York Mets on June 11, 2013 in the Flushing neighborhood of the Queens borough of New York City. (Photo by Jeff Zelevansky/Getty Images) /
Three New York Mets sluggers have led the league in home runs. Let's look at those powerful years when they outslugged the National League.
Home runs can win you a baseball game. In the history of the New York Mets, they've been far more reliant on pitching than four-base hits. This doesn't mean they have been void of home run champions.
The record for most home runs hit in a single-season by a Mets player is 41. It's a shared title by Carlos Beltran and Todd Hundley. While it is a nice, solid, big number it's not going to win too many home run crowns. Typically, the National League leader finishes the season with a few more, although, in the decade of the 2010s, we've already seen six seasons where this wasn't the case.
Neither Beltran nor Hundley led the league in home runs in their Mets-record-setting seasons. Before them, though, these Mets managed to wins National League Home Run Crowns.
Dave Kingman in 1982
Home runs are synonymous with Dave Kingman. He swung hard, often, and when he made contact the ball tended to travel a long distance. He was the first player in Mets history to win a home run crown. It happened in a rather forgettable Mets season back in 1982.
In Kingman's second stint with the Mets, he was two years removed from hitting a personal-best 48 home runs for the 1979 Chicago Cubs. It was his first home run title, but not his last.
At age 33, Kingman swatted 37 long balls for the 1982 Mets. The total led all National League batters and came up two shy of the 39 hit by Reggie Jackson and Gorman Thomas in the American League.
Kingman's 442 career home runs put him in an elite class of sluggers. While not quite 500, it's a worthy accomplishment.
With the Mets, he hit 154 total. In the franchise's 21st season, someone on their roster finally outslugged everyone else.
Darryl Strawberry in 1988
Nobody hit more home runs for the Mets than the second player in team history to lead the league in long balls. Darryl Strawberry's 252 round-trippers for the Amazins beats out everyone else. In 1988, he hit more than everyone else in the National League.
A year after hitting 39, which wasn't close to the 49 Andre Dawson led the league with in 1987, Strawberry again came one short of hitting 40. This time, however, it was enough to give him the first and only home run title of his career.
Like Kingman did a few years earlier, Strawberry settled with only the NL lead. Jose Canseco knocked 42 bombs for the Oakland Athletics. Strawberry's total was still an impressive one, helping him to secure a second-place finish in the MVP race.
The 1988 Mets were perhaps even better than the 1986 squad that won it all. Strawberry's powerful regular season was a major reason why.
Howard Johnson in 1991
For the third time in ten seasons, the 1991 season included a Mets player at the top of the home run mountain. This time, Howard Johnson took the honors with a league-best 38 dingers.
Year marked the third time in his career featuring 35+ home runs. Previously, Johnson hit 36 in 1987 and 1989. He managed to outdo himself in the power department with his career-high in this particular campaign.
As far as competition goes, there wasn't much for Johnson. Matt Williams' 34 home runs for the San Francisco Giants was the next closest. Notable sluggers Jose Canseco and Cecil Fielder tied for the American League lead at 44. However, Johnson left the rest of his National League friends and foes far behind.
Coincidentally enough, the only player to hit more home runs than Johnson in 1989 was a former teammate of his, Kevin Mitchell. If not for his MVP season with the Giants, HoJo would have the claim as the only player to win multiple home run crowns for the Metropolitans. Instead, he's on a list alongside Kingman and Strawberry.
Want your voice heard? Join the Rising Apple team!
Maybe one day in the future the trio has company before another Mets player is a repeat champion.
Home
/
New York Mets History