Mets: Who should they protect in an expansion draft scenario?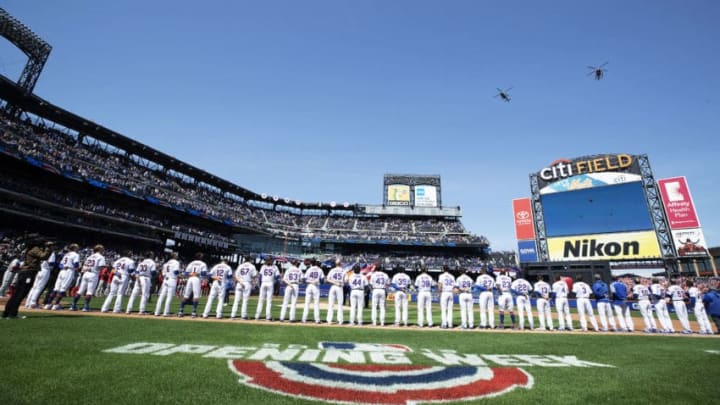 NEW YORK, NEW YORK - APRIL 04: The New York Mets stand for the National Anthem against the Washington Nationals at the Mets Home Opening game at Citi Field on April 04, 2019 in New York City. (Photo by Al Bello/Getty Images) /
In a hypothetical scenario where MLB holds an expansion draft, which players should the New York Mets protect?
Recently, there have been efforts in cities such as Portland, Montreal, Monterrey, and Raleigh to bring Major League Baseball to their area. Although there are no immediate plans for MLB to expand, I thought it would be interesting to think about who the New York Mets would protect in an expansion draft.
The last time Major League Baseball held an expansion draft was in 1997 when the Arizona Diamondbacks and the Tampa Bay Devil Rays joined the league. The Mets lost pitcher Cory Lidle to Arizona and outfielder Carlos Mendoza to Tampa Bay.
An expansion draft consists of three rounds, and a team could not lose more than one player per round. Each already existing franchise can protect 15 players, including an extra three after each round. Teams can protect anyone in their entire organization, with a few exceptions.
More from Rising Apple
Players signed at 18 or younger with no major league experience must have four years of service time to be drafted, players signed at 19 or older must have three years of service time. Therefore, young prospects such as Andres Gimenez, Ronny Mauricio, and David Peterson would not need to be protected, however, Pete Alonso would need protection.
Let's start off with some easy ones. Jacob deGrom is the face of the franchise, and now with his new extension, he's not going anywhere. Brandon Nimmo and Edwin Diaz still have four years of team control, Michael Conforto and Noah Syndergaard have three.  Protect them all.
Amed Rosario, Pete Alonso, and Jeff McNeil are young players that the Mets must protect, they'll still be earning league minimum for a while, so that's a no brainer.
Some of the veterans should be protected as well. However, a new expansion team is very unlikely to take on a five year $120 million contract for a 36-year-old, so I'd say Robinson Cano does not need to be protected. A similar case can be made for Yoenis Cespedes.
Wilson Ramos is a veteran player who should be protected, as he is tough to replace. There just aren't a lot of good catchers out there.
Next, I'd just sure up the pitching staff by protecting Steven Matz and Seth Lugo. Zack Wheeler is a free agent at the end of the season so the Mets would need to give him a contract anyway.
The last four spots are very up in the air. There's a lot of players you could make arguments for.
I decided to protect Jeurys Familia's contract. He still has two years left after this year, and I think as the Mets young arms mature, Familia's role will become stressful, making him an effective middle reliever.
Robert Gsellman should be kept due to his team control and versatility. He can go multiple innings and has the second highest slider velocity in MLB, behind Jacob deGrom.
Dom Smith gets a spot on my team as well, as you never know what he could still turn into. He could still be very valuable to the Mets, either as a bench weapon or a trade chip.
And finally, after some thought, Keon Broxton was my last save. Juan Lagares is set to be a free agent and Broxton will likely assume Lagares' roll on the team as a speedy defensive fourth or fifth outfielder. I will say, however, if Cespedes comes back healthy this year, he may get this final spot. A healthy Cespedes on a one-year commitment may be something a new franchise would want to start with.
Some honorable mentions include J.D. Davis, Justin Wilson, Jed Lowrie, Daniel Zamora, and Tyler Bashlor, although the team would be able to save three more players each round so hopefully, they would all be safe.
Want your voice heard? Join the Rising Apple team!
Who would you protect in an expansion draft?