New York Mets roster is built to makes its way to the postseason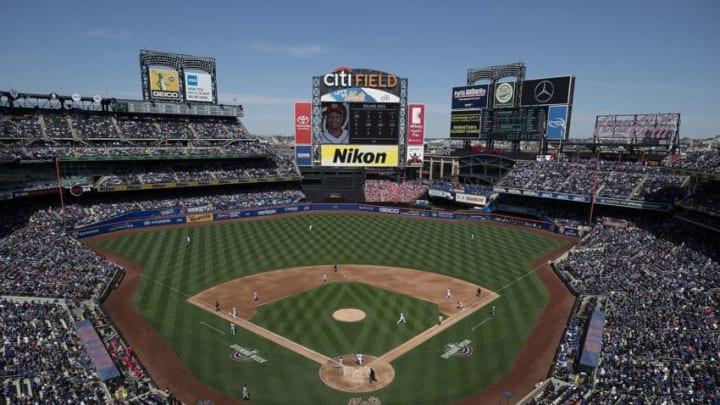 NEW YORK, NEW YORK - APRIL 04: A general view of Noah Syndergaard #34 of the New York Mets pitching against Wilmer Difo #1 of the Washington Nationals during the Mets Home Opening game at Citi Field on April 04, 2019 in New York City. (Photo by Al Bello/Getty Images) /
NEW YORK, NEW YORK – APRIL 07: Michael Conforto #30 of the New York Mets celebrates after hitting a three run home run in the ninth inning against the Washington Nationals at Citi Field on April 07, 2019 in New York City. (Photo by Mike Stobe/Getty Images) /
The Reserves
Dominic Smith is another guy the Mets need to try to get many at-bats for this season. Dominic Smith has been a great story so far this season, but he will not be the starting first baseman and there will definitely not be any platooning going on due to the emergence of Alonso.
That doesn't mean that Smith doesn't have a spot on this team, because he certainly has earned that. The Mets had tried him in left field last season so you can assume that is a possibility, but regardless of what position he plays, the most important thing for Smith is to keep hitting.
More from Rising Apple
The Mets can deploy him as the first pinch-hitter every night, but it's no easy task, especially for a young player like Smith to come off the bench and be an excellent pinch-hitter. At this point in the season, that's what Smith is going to have to learn to do, especially with Jed Lowrie and Todd Frazier coming back soon.
Just Dingers Davis. J.D. Davis has had a very interesting start to the season with the Mets. He had a clutch hit game two of the season against the Nationals, then he went on a 2 for 15 stretch, then he started a game batting cleanup, disgusting honestly every Mets fan in existence, and he responded with a 3 for 3 night with 2 monster home runs.
If Davis wants to hit 2 home runs every game, he can gladly hit clean-up every night.
Unfortunately it's probably not going to happen as nobody has ever done that. Davis is entering a really important stretch of games for him as both Frazier and Lowrie will be back shortly. If he keeps hitting, there's no way the Mets can send him down to the minors, but if he doesn't keep hitting, there will be no issue with the Mets sending him to Syracuse.
The MVP Outfielder
It's a bold claim, but I think Michael Conforto will have an MVP caliber season. He is the most important offensive piece to this Mets team. If he hits like we know he can, then teams will have to pitch around him, and the beauty of this Mets team is that's not a good idea for the opposition.
Whether its Wilson Ramos and Jeff McNeil behind him, or Pete Alonso and Robinson Cano in front of him, pitchers will have to respect him and then make pitches to the former and latter. The Mets will go this season, as Conforto goes.
Our Lovable Outfielder
Brandon Nimmo is just as important as Conforto. Nimmo is the guy who starts this engine, batting leadoff day in and day out. I know he has struggled to start the season, but he will rebound because he is a tremendous baseball player.
Once he stops chasing every single pitch thrown at him, he will revert back to that bonafide leadoff hitter. Whether he draws a walk (or a sprint), gets hit by a pitch or hits an opposite-field home run, he always has that same Nimmo smile on his face that Mets fans have fallen in love with.