New York Mets roster is built to makes its way to the postseason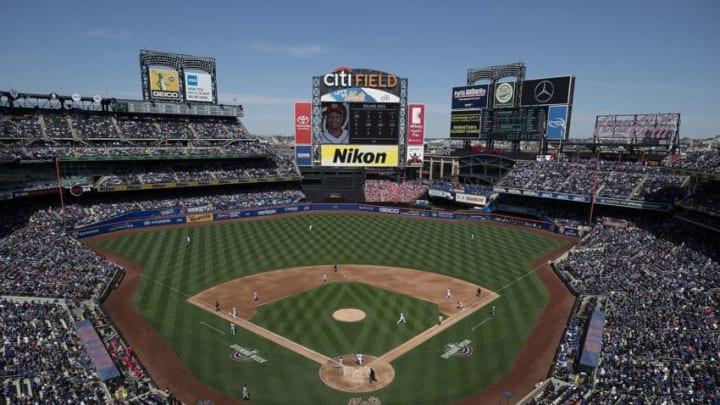 NEW YORK, NEW YORK - APRIL 04: A general view of Noah Syndergaard #34 of the New York Mets pitching against Wilmer Difo #1 of the Washington Nationals during the Mets Home Opening game at Citi Field on April 04, 2019 in New York City. (Photo by Al Bello/Getty Images) /
MIAMI, FL – APRIL 03: Edwin Diaz #39 of the New York Mets pitches in the ninth inning for the save against the Miami Marlins at Marlins Park on April 3, 2019 in Miami, Florida. (Photo by Mark Brown/Getty Images) /
And Jason Vargas
If the Mets aren't going to sign or acquire another starter, there's only one word the Mets need to know regarding Vargas' day. Survive. Jason Vargas has been for a lack of a better word, terrible, for the Mets since his signing last offseason.
If the Mets are going to make the postseason, they can't have an automatic loss every fifth day. They need to save up all of their runs for Vargas' Day, or else they will be losing every fifth day and taxing their bullpen in the process.
The Closer
Sugar has never been sweeter. When Diaz comes into the game, I don't have that same nauseating feeling that I used to have, or should I say, still have, with another name on this list. The most incredible stat I've ever heard regarding Diaz was the Mariners 66-0 record when he entered the game with a lead last season.
Obviously, that probably won't happen again this year with the Mets, but the Mets sure have their closer of the future and hopefully, this postseason.
The Bullpen
When Jeurys Familia comes into a game, I NEVER know what is going to happen. He can have an incredible season like 2015 but then have three blown saves in the World Series, I for one, don't blame him for a few of those blown saves, but it happened and it's in the past.
Familia is asked to be the setup man this year, but he has faltered a little bit up to this point. I know Familia has nasty stuff and he will eventually get back on track as the setup man to Edwin Diaz.
I have Justin Wilson penciled in as the Mets number three bullpen guy. I think he is an established reliever that has a lot of good tools that he uses to get a batter out late in a game. Hopefully, he continues to pitch well.
I mentioned this earlier with Wheeler and Matz, but the Mets go as Seth Lugo goes. Even though he is a reliever, he is the difference between having three go-to guys, to four which is an incredible difference.
Everyone knows that Lugo's unfathomable spin rate on his curveball can fool any batter, anytime, but we need Lugo and his curveball to be an out-making machine this season for the Mets to be a title contender.
Robert Gsellman has always been one of my favorites, however, it has seemed to cloud my judgment on him. He has struggled a lot recently and I'm really hoping to see that streak change. He is the difference, assuming Lugo rebounds and has a good year, between the Mets having four or five go-to guys.
The Mets might have to look elsewhere

These two have gotten off to less than MLB standard starts.
Luis Avilan was virtually a lock halfway through Spring Training. However, now we know that might've just been due to a lack of other options.
I had some decently high expectations for Avilan coming into this season. He has fallen flat on his face through the early part of the season. Hopefully, he can turn it around, or else the Mets might have to be looking somewhere else.
Tim Peterson has been interesting since the end of Spring Training. He was reassigned to minor league camp, to only be brought up a few days later and make the Opening Day roster.
Ever since then, the Mets have been reluctant to use him. He's back in the minor leagues with Corey Oswalt taking his place on the roster. One could argue, it's not much of an improvement.