New York Mets roster is built to makes its way to the postseason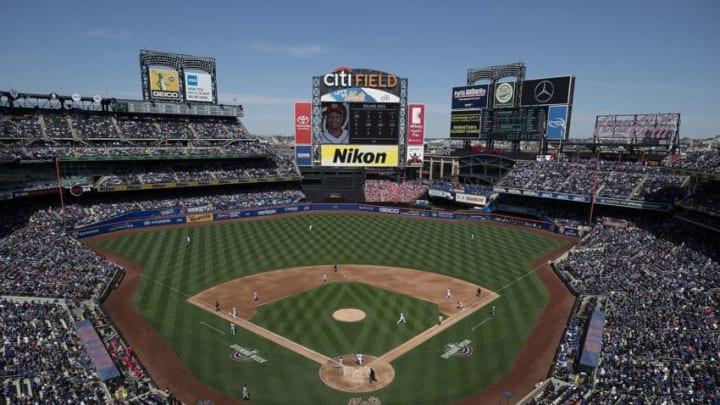 NEW YORK, NEW YORK - APRIL 04: A general view of Noah Syndergaard #34 of the New York Mets pitching against Wilmer Difo #1 of the Washington Nationals during the Mets Home Opening game at Citi Field on April 04, 2019 in New York City. (Photo by Al Bello/Getty Images) /
NEW YORK, NEW YORK – APRIL 04: Jacob deGrom #48 of the New York Mets looks on before playing against the Washington Nationals on April 04, 2019 during the Mets home opener at Citi Field in the Flushing neighborhood of the Queens borough of New York City. (Photo by Michael Heiman/Getty Images) /
A closer look at the New York Mets and why they have a roster built for the postseason.
The New York Mets are off to a pretty good start in 2019. Fans have aspirations for the postseason. For those hoping to see the Mets play into October, you're in luck. The Mets have a roster built for the postseason.
The Best Pitcher in Baseball
Do I even have to write about this one? Jacob deGrom is the BEST pitcher in baseball and it's not really close. Last season he pitched 217 innings, to a spectacular 1.70 ERA.
We all knew he wouldn't be able to repeat that this year, but fresh off a 5-year contract extension, he might just have a more deGrominant season. He can hit a home run too!
All of the tools to become the best
Noah Syndergaard has everything you'd want from a New York sports superstar. He has the long beautiful blonde hair, he has an "us vs the world mentality", he may have even fueled deGrom's extension with a few choice words.
To top everything off, we know he has what it takes to be an incredible pitcher. The only question is whether or not he will turn all of his attributes into a fantastic season.
Obviously, deGrom and Syndergaard are important, but we kind of have an idea what to expect from them, as the season that Zack Wheeler and Steven Matz have, will be a deciding factor for the New York Mets.
If these two are good, the Mets will be good
We know Zack Wheeler can be a great pitcher in this league. In the first half of 2018, Wheeler was 3-6 with a 4.44 ERA, but the second half was incredible. Wheeler pitched to a 9-1 record with an astounding 1.68 ERA.
We need the Wheeler of the second half because the Wheeler who gave up 7 ER in only 4.2 innings while allowing 7 BB and only 2 K against the Nationals won't help the Mets make the postseason. If Wheeler can rebound from this start, there's no reason the Mets can't make a run with 3 strong pitchers.
Four strong pitchers? Why not. Steven Matz can be very effective as we've seen him in the past couple of years. The issue that Matz has had so far this year is his pitch count. He had 103 pitches over 5 innings in his last start vs the Nationals. He only allowed 2 hits and had an impressive 8 strikeouts in 5 innings, but the innings are a huge issue.
As we've seen this year, we can hardly count on one out from anyone in the bullpen not named Edwin Diaz, let alone 12 outs. Matz needs to be more efficient by putting hitters away earlier in the count if the Mets want to save their bullpen.