New York Mets prospects
Three Mets minor league pitchers who could help this team out in 2019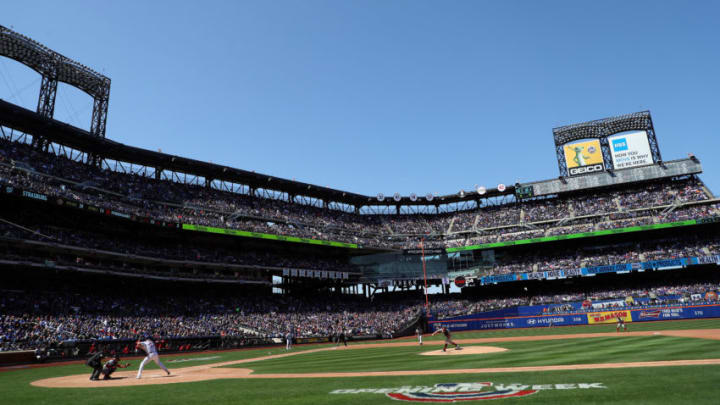 NEW YORK, NEW YORK - APRIL 04: Stephen Strasburg #37 of the Washington Nationals pitches against Noah Syndergaard #34 of the New York Mets on April 04, 2019 during the Mets home opener at Citi Field in the Flushing neighborhood of the Queens borough of New York City. (Photo by Michael Heiman/Getty Images) /
NEW YORK, NEW YORK – APRIL 04: A general view of Noah Syndergaard #34 of the New York Mets pitching against Victor Robles #16 of the Washington Nationals during the Mets Home Opening game at Citi Field on April 04, 2019 in New York City. (Photo by Al Bello/Getty Images) /
For the 2019 season, New York Mets fans can expect a few pitchers to be called up from the minor leagues if the bullpen struggles. These three should get ready to book a bus ticket to Flushing.

Just over two weeks into the 2019 campaign, the expectations for the New York Mets this year remain high after an eventful offseason.
Thus far into the 2019 season, the Mets are averaging more runs per game than they did last season, Jacob deGrom picked up right where he did last season with a few impressive outings, and rookie Peter Alonso appears to be living up to the hype he had coming into the year.
With that said, one of the areas of concern at the moment for the Mets should be the team's pitching, particularly the bullpen.
After a historically bad season in 2018, where the bullpen's combined ERA was a staggering 4.96, the Mets made big moves to improve it, trading for All-Star Closer Edwin Diaz from the Seattle Mariners and signing free agent relievers Justin Wilson and Jeurys Familia.
While I do have confidence in those 3 players, the rest of the bullpen has looked inconsistent throughout the first few series of the new year, as player's like Seth Lugo have had several rough outings to start the year.
Additionally, starting pitcher Jason Vargas was a big question mark coming into the season after his performance in 2018, and Zack Wheeler has also struggled in his first two starts of the year.
While it's still early in the new season and all of these players can rebound, the Mets do need a backup plan in case some of these continue to struggle, or if injury strikes, which has been a common occurrence in recent years.
Just two weeks into the season, we have already seen a change as Corey Oswalt was just called back up to the big leagues in favor of Tim Peterson.
While most fans would pine for the Mets to go out and sign blue-chip free agents such as Dallas Keuchel and Craig Kimbrel to fill those roles, it is far more likely that the team turns to their farm system for additional arms.
Here are 3 minor league pitchers who could be called up to the Mets in 2019.