Why Mets batters are striking out at an alarming rate this season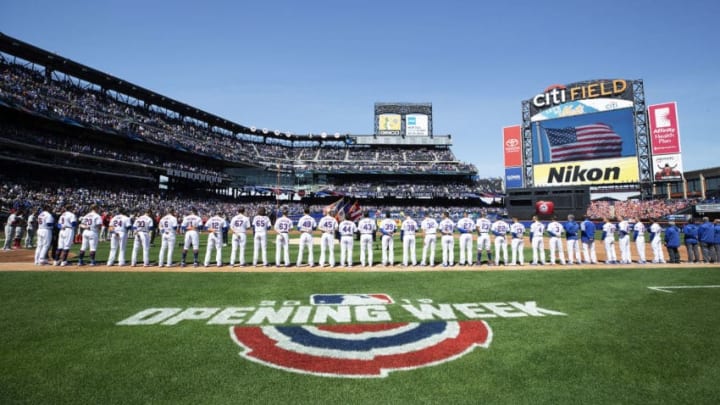 NEW YORK, NEW YORK - APRIL 04: The New York Mets stand for the National Anthem against the Washington Nationals at the Mets Home Opening game at Citi Field on April 04, 2019 in New York City. (Photo by Al Bello/Getty Images) /
The New York Mets bats are going down on strikes at an alarming rate to begin the season.
The New York Mets enter their ninth game of the season against the Washington Nationals with some positives to build on. They are one of the leaders in the National League averaging around 6 runs per game through the first week of the 2019 major league regular season. This team has also gotten nine or more hits in 6 of their first 8 games to start this year and are currently in first place in the NL East. Despite these positives to build on, one glaring red flag in their offense is the number of strikeouts they have racked up as a team.
At the start of action on Sunday, the Mets are top five in the majors on strikeouts accumulated at the plate with 88 total strikeouts in eight games. Now to be fair, strikeouts have increased all across the majors at a blistering pace for the last six years or so.
Coming into this Sunday, over 30% of all outs made combined in the major leagues were because of the strikeout. This is the highest percentage ever seen by the sport in its history since the dead ball era. Therefore to just say it's just the Mets who are dealing with this disturbing trend would not be fair.
But when the rest of the league is averaging 8 strikeouts per nine innings pitched and you are averaging over 11 strikeouts over those same nine innings, it can't be a stat that the coaching staff simply ignores. Especially when Brodie Van Wagenen and Mickey Callaway are building a team based on contact and quality at-bats up and down their line up. It works in the team's favor if the management constructs a line up that cuts down on strikeouts and puts more balls in play if they want to keep up their solid offensive barrage in 2019.
This means making more contact with the baseball and putting the pressure on opposing defenses to make the plays rather than relying on sporadic clutch long balls to bail out a stagnant offense at times. Such a philosophy should tend to lead to more runs being generated on offense over the long run and is one the Mets would be prudent to follow going forward.
One of the myriad of reasons we are seeing strikeouts increase at an alarming rate with this Mets team and with other ball clubs is the philosophy being stressed by analytics departments and hitting coaches that the home run ball is the fastest and most effective ways to score runs.
And what is the best way to increase the number of home runs being hit now that steroids and methamphetamines have been banned in the game today?
The advent of the launch angle.
Hitting coaches all throughout baseball are now teaching amateurs and professionals to put more of an uppercut on their swings as they make contact with baseballs to generate a "lift" to the ball as it flies off their bats. This "lift" allows balls to clear outfield fences at a greater rate and increases the amounts of home runs and runs scored quicker for many teams.
But with this more effective offensive technique comes greater negative consequences. One of those being that as pitchers throw harder and harder at higher levels, it becomes more and more difficult for hitters to actually make contact with the baseball once they incorporate a loop into their swing. The result is more strikeouts.
More from Rising Apple
Increasing ratios of fly balls hit to ground balls hit at the Major League level year after year for the past decade is proof of this. Also with the average velocity thrown on the fastball by pitchers increasing every year, it would make sense that a hitter would want to incorporate a launch angle into their swing because as you make contact with something coming at you faster, it tends to fly farther and farther away once struck.
Another reason why strikeouts seem to be on the rise with this ball club is that more teams are throwing sharper breaking pitches in their arsenal and are throwing their harder fastball less and less. With sharper breaking pitches being thrown more and more, we are seeing more aggressive swings and misses on bad pitches as a result.
But should we as Mets fans be worried about this increasing strikeout phenomena being a detriment to our team's offense going forward?
I would say yes, only in that offenses that don't work the pitch count much and that don't make starting pitchers work hard tend to have a harder time scoring runs later in ball games. The more selective a team is in choosing what pitches it swings at, the more likely they will make the opposing pitcher work and tire out earlier by making those hurlers throw more pitches.
Since most opposing teams today don't have a bullpen that can be as effective as their starters (with exception of their closers), good hitting teams can do more damage late in games when they go against the opposition's middle relief. Making solid contact and working the pitch counts deep is the key to forcing this type of favorable situation.
I believe the Mets have to focus harder to get their hitters to be more selective in their at-bats. If they can draw more walks and work counts deeper, they will more likely see better pitches to hit while at the same time reducing their strikeouts. This further makes their uppercut approach to swinging more effective when they make contact because they will be upper cutting more hittable baseballs.
One major positive early sign for the Mets offense that can make fans rest a little easier about the high strikeout rate is that the New York offense is hitting for a high average with runners in scoring position and two outs. Their contact rate is significantly higher in these situations than with no one on base. Also, they are hitting the ball more in these situations to the opposite side and to all parts of the baseball field.
Want your voice heard? Join the Rising Apple team!
These are definite positive indicators of a ball club that can end up scoring many more runs during the regular season than their opponents. And that is something that should mask the frustration of any strike three punch out.