New York Mets: Five observations from Opening Day 2019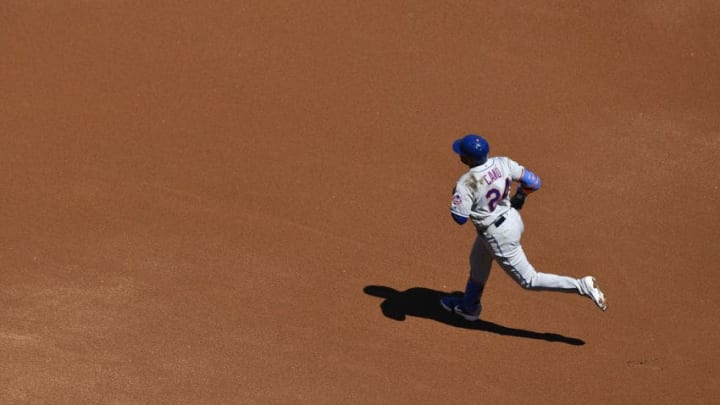 WASHINGTON, DC - MARCH 28: Robinson Cano #24 of the New York Mets runs the bases after hitting a solo home run in the first inning against the Washington Nationals on Opening Day at Nationals Park on March 28, 2019 in Washington, DC. (Photo by Patrick McDermott/Getty Images) /
WASHINGTON, DC – MARCH 28: Robinson Cano #24 of the New York Mets celebrates after hitting a solo home run in the first inning against the Washington Nationals on Opening Day at Nationals Park on March 28, 2019 in Washington, DC. (Photo by Patrick McDermott/Getty Images) /
2) Robinson Cano also looked very good
As previously mentioned, Cano made an excellent defensive play in the 3rd inning which potentially saved the Mets from allowing a run and losing their one-score lead.
Prior to that, in his first at-bat for the Mets, Cano hit a solo home run to left-center field off of Scherzer, the runner-up for the 2018 Cy Young award, giving the Mets a one-run lead, which turns out was all they needed to win the game.
More from Rising Apple
His home-run in the 1st inning was the first time since Mike Jacobs in 2005 that a player hit a home run in their first at-bat with the Mets.
Additionally, in the 8th inning, Cano drove in a second run on a base hit off of Matt Grace, a left-handed pitcher, to give help extend the Mets' lead to 2-0.
Cano was arguably the biggest acquisition the Mets made this off-season, as the Mets traded for him hoping to be the anchor of the lineup and a player who could consistently help the team manufacture runs, which was an area they struggled with last year.
In just his first game alone, Cano accounted for the only 2 runs for the Mets the entire game and saved a run from being scored in the 3rd inning, helping to secure the win for the team against their division rivals.
While we still have 161 games left to play and we'll need more than just one good game from Cano in order to make the post-season, I'm hopeful this is a good sign of things to come.
3) Pete Alonso's potential is not a secret around the league
Firstly, congratulations to Alonso on his debut and for recording his first major league hit in today's game.
Alonso's first hit came in his fourth at-bat of the day off of reliever Justin Miller in the game's 8th inning. However, over his first three at-bats, he was unable to record a hit off of Max Scherzer.
Scherzer is one of baseball's premier pitchers, and even a veteran player getting a hit off of him is a difficult task, so it's no surprise that the rookie Alonso struggled against him.
It is important to note that Scherzer pitched very carefully against Alonso, and did not give him many pitches to hit. Normally against rookie hitters, especially in their first game, pitchers tend to just pound fastballs down the plate to get an easy strikeout, but this was not the case.
Scherzer threw mainly sliders away from Alonso during their first at-bat, and Alonso managed to work him to a full count before he eventually struck out.
This shows that despite the fact that he is new to the league and that this was his first game, Alonso's power and potential as a hitter is known to the league, and they are aware that despite his inexperience, he won't be an easy out.
The fact that Scherzer pitched to him so carefully shows that he already has a reputation around the league, and it's likely that if that Nationals are doing this so early in the year, then the other teams will likely be cautious when facing him in the future.