New York Mets: Five observations from Opening Day 2019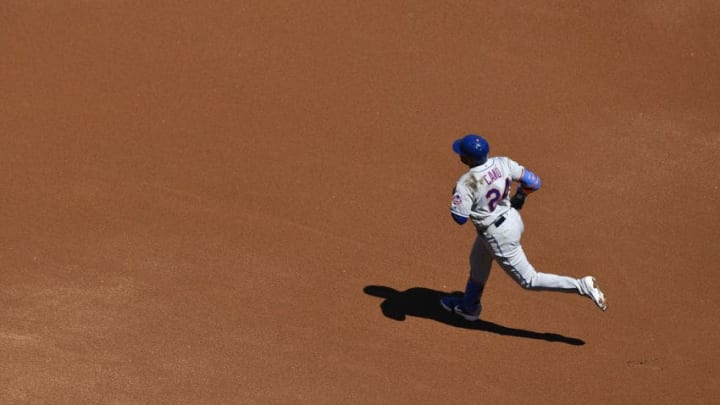 WASHINGTON, DC - MARCH 28: Robinson Cano #24 of the New York Mets runs the bases after hitting a solo home run in the first inning against the Washington Nationals on Opening Day at Nationals Park on March 28, 2019 in Washington, DC. (Photo by Patrick McDermott/Getty Images) /
WASHINGTON, DC – MARCH 28: Jacob deGrom #48 of the New York Mets walks back to the dugout after the first inning against the Washington Nationals on Opening Day at Nationals Park on March 28, 2019 in Washington, DC. (Photo by Patrick McDermott/Getty Images) /
The 2019 New York Mets season has officially begun. In game one, we already learned a little about this team.
That's 1 game down, 161 to go for the New York Mets.
After a very long and eventful offseason, Mets baseball is back and like they so often do, the Mets won their first game of the season, edging out Max Scherzer and the rival Washington Nationals in route to a 2-0 victory.
This victory was their 38th win on Opening Day in the last 50 Opening Day games, which is the best record across all MLB, NFL, NBA, and NHL teams in that same 50-year span.
With that said, as Mets fans unfortunately know, how the team performs in the first game of the year is not necessarily indicative of how the team will perform for the entirety of the season, as while they have the best opening season record in the past 50 years, the team has only made the playoffs 9 times over that same stretch.
Still, today's game can be viewed as a preview of potential things to come, and there a few notable takeaways Mets fans all saw in today's game.
Here are the 5 biggest observation from Mets 2019 Opening Day.
1) Jacob deGrom is still very good
Coming off of a career year in 2018, in which deGrom led the league in ERA with a stellar 1.70 and won the NL Cy Young Award, expectations coming into the 2019 season are higher than they have ever been for him.
After signing a 5-year extension with the club earlier in the week, fans were eager to see New York's ace's first start of the season, seeking vindication that the Mets are going to get a good return on their new investment in deGrom.
It's safe to say that they were not disappointed.
DeGrom picked up right where he left off last season, pitching 6 shutout innings on 93 pitches, allowing 5 hits and 1 walk while striking out 10 batters. This start set a new Major League Record for deGrom, as it was the 30th straight start where he only allowed three runs or fewer.
While he performed excellently over those 6 innings, this start was not perfect, as deGrom did run into trouble a few times during the game.
Particularly, in the 3rd inning, deGrom was stuck in a situation with runners on first and third and only 1 out, and after getting a ground ball to get the force out at second base, if it were not for a heads up play by new Met, Robinson Cano, to throw the ball home and catch Victor Robles in a rundown, he may have given up the run.
Speaking of Cano…