Mets Fans Know Best: Are any of the new guys jersey-worthy?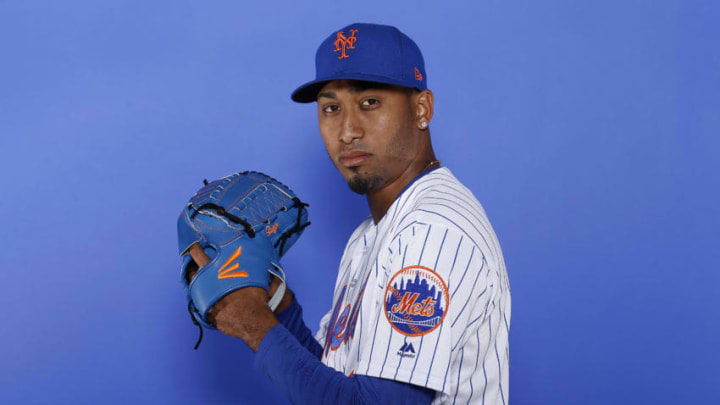 PORT ST. LUCIE, FLORIDA - FEBRUARY 21: Edwin Diaz #39 of the New York Mets poses for a photo on Photo Day at First Data Field on February 21, 2019 in Port St. Lucie, Florida. (Photo by Michael Reaves/Getty Images) /
New York Mets fans know best so we asked them, are any of the new guys "jersey-worthy?"
Other than improving the offense, one of the best arguments a New York Mets fan could make to ownership as to why they needed Bryce Harper was the revenue they would make in return. A basic principle of business is that you need to invest money before you can make it. Harper is the ultimate investment and the Philadelphia Phillies are experiencing it with a huge boost to ticket sales and a record-breaking number of jerseys flying off the shelf.
Meanwhile, over at Citi Field, I reckon the ticket salespeople are experiencing no increases in phone calls. Jerseys are likely selling at the same rate.
More from Rising Apple
The Mets had a productive offseason, but the big criticism we can make is the lack of star power they brought in. Brodie Van Wagenen added immense depth to the organization and upgraded at a multitude of spots. However, unlike a big-ticket item such as Harper, they didn't bring anyone to Flushing that would attract a casual fan.
Robinson Cano is, without a doubt, the biggest name the Mets added this winter. He would definitely be jersey-worthy except there are a few major counterpoints against it. He's a former New York Yankee, less than a year removed from a PED suspension, and well past his prime. Cano may very well become a beloved member of the Mets, but I don't expect jerseys or shirseys of his to pack Citi Field before he does something amazing.
In our first edition of Mets Fans Know Best, I asked Rising Apple's Twitter followers what they thought about the new guys. Are any of them actually worth owning a jersey of?
Twitter only offers four options in polls so I was limited to go with the three biggest new additions and add in an alternative choice of none/other.
By a good sum of 36%, most voters believed Edwin Diaz was the most jersey-worthy followed by Cano at 27%. Wilson Ramos, who I believe will become the most popular during his time, received a paltry 7%. The rest of the 30% of voters either didn't think anyone is worth it or believe there's a better option out there.
The logic is sensible. Diaz is the youngest so he has the potential to stick around the longest. Cano, while under a five-year contract, is near the end of his career and unlikely to perform at his peak. Ramos may play well, but a two-year deal with an option for a third isn't long enough for Mets fans to commit.
In the comments section, I was surprised to see J.D. Davis get some positive attention. I don't believe anyone is rushing out to get a jersey of his quite yet. Given some major league at-bats, things may change.
For now, it looks like the highest number of new jerseys we'll see at Citi Field in 2019 will be Diaz's number 39. Those who delayed on buying Jacob deGrom replicas probably did so this winter and I suspect Brandon Nimmo will get more love than ever before.
Want your voice heard? Join the Rising Apple team!
Until the Tim Tebow fans invade the ballpark and buy out every jersey they can get their hands on, I don't expect anyone on this team to set sales records just yet.