Mets must hope Bryce Harper, Manny Machado contracts are a disaster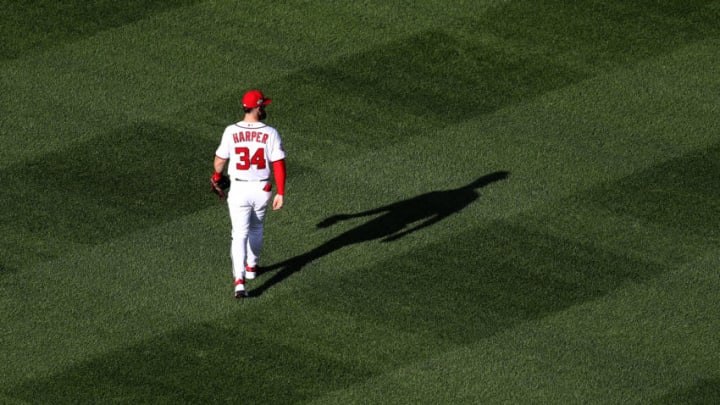 WASHINGTON, DC - SEPTEMBER 26: Bryce Harper #34 of the Washington Nationals takes the field before the start of the third inning against the Miami Marlins at Nationals Park on September 26, 2018 in Washington, DC. (Photo by Rob Carr/Getty Images) /
Bryce Harper and Manny Machado have both recently found homes for 2019. As the New York Mets front office watches on, they will have to hope both $300+ million deals are failures.
According to everything we've seen, read, or heard the New York Mets didn't meet with Bryce Harper or Manny Machado this winter. They are one of only a few National League teams who passed on the pair the moment they became free agents. Neither was ever a possibility for the Flushing 25 beyond the dreams of fans.
Barring a trade, Harper will suit up for the Philadelphia Phillies for the next 13 years while Machado will do the same with the San Diego Padres for at least the next 5 seasons with a possibility for up to 10.
The Mets front office made it pretty clear as to why they weren't in on this pair. Jeff Wilpon's statement about how it's uncommon for teams to have more than one $30+ million players on the roster gives us a clear path as to their reasoning.
More from Rising Apple
It was all about the money. The Wilpons have a reputation for being cheap. They make our aunts who give us $5 for our birthdays even when we're older than five look like a Rockefeller with their high-spending.
I understand not every team should meet with these two superstars. I also know how important it is to never compare yourself to others. However, this isn't me I'm referring to. This is a baseball team making all of the decisions.
The Mets finished close enough to .500 last year and made enough moves this winter to be considered a contender in 2019. As a New York City team, they should have an attractive spot on their roster for any superstar who wants it.
Instead, teams like the Padres, who I believe last won a World Series when the San Diego Chicken was still an egg, are the ones are the forefront of wooing these stars. Other bad National League ball clubs, like the San Francisco Giants, have at least considered it at some point. Not to mention, the Mets of the American League, the Chicago White Sox, were among the favorites to land either Harper or Machado despite living in the shadow of the Chicago Cubs.
The Mets payroll didn't look like it was set to take on a big contract like the one Harper and Machado desired. They have spent money, but with their new arrivals this offseason, have essentially put themselves up against the luxury tax with any mega-contract. There are ways around this. The organization didn't seem interested in exploring those options.
Like any team who had a reason to sign either of these free agents, the Mets front office is surely hoping for the worst. If from afar they watch as Harper and Machado become roster albatrosses without World Series rings, the Mets won this offseason. Even if they don't win one themselves, there's going to be some sense of pride for the Wilpons.
Over the next ten years, only a third of MLB teams can win a championship. The Phillies and Padres are guaranteed nothing but have a much better chance. Each added one great player this winter. In future offseasons, they have made themselves more attractive.
The worst outcome for the Mets is to see the Phillies and/or Padres win multiple championships as Harper and Machado thrive. It will show the ownership something they've never wanted to believe: you need to spend as much as possible to win.
Want your voice heard? Join the Rising Apple team!
This winter, for all of the good they did accomplish, I just didn't get the sense they were ever willing to go all-in for a better roster.