Mets: How will Rosario's call-up shuffle infield moving forward?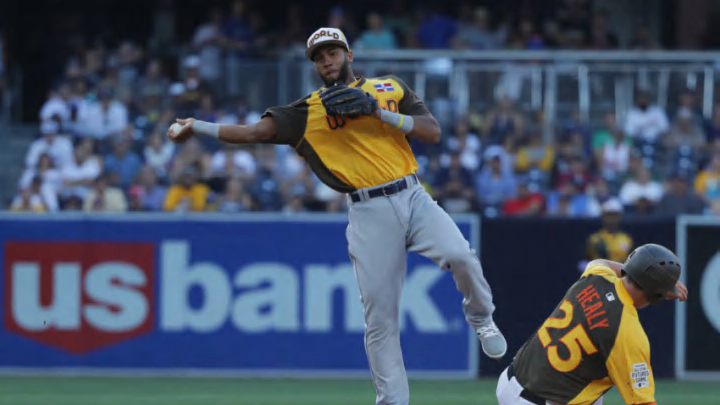 SAN DIEGO, CA - JULY 10: Amed Rosario /
Mark it down, Mets fans. August 1, 2017 will be the day we finally see top prospect, Amed Rosario in a Major League regular season game. It was announced after the trade deadline passed that Rosario will be called up ahead of the Mets' series opener against Colorado on Tuesday.
A corresponding move won't be announced until then. If Jose Reyes avoids a DL stint then Matt Reynolds would most likely be optioned to the Mets' Triple-A affiliate in Las Vegas. If Reyes is good to go, that will start the question of what happens with the rest of the Mets' infield moving forward.
Rosario did get a little time at third base this season with Las Vegas, but he is up to fill the spot at shortstop. Which means Reyes will most likely be shuffled to the bench.
While Asdrubal Cabrera and Neil Walker did not get dealt before the deadline, they are both potential August trade candidates, so if either of them go, it could change things up as well.
Terry Collins already stated a few days ago that Wilmer Flores will be the full-time first baseman for the moment. Once that happens, the proverbial merry-go-round will spin a little faster. That's assuming neither Cabrera nor Walker are traded by then. I would think Sandy Alderson would like to feature Cabrera at third as much as possible for the time being if any trade candidates come calling in August.
Despite having several guys who have played multiple positions, there aren't many true utility players on this Mets team. Reyes has only really been able to play short effectively and he will hardly get the chance to do so now with Rosario up. Cabrera is still newer to third and has only played second base well defensively. Walker has played second in nearly 99 percent of his innings logged in the big leagues. Flores can make the routine plays at first more consistently (1 error in 244 career chances). Still, he seems better suited defensively for second.
Next: Rosario to make MLB debut on Tuesday
Whatever happens around Rosario, one half of the Mets' projected infield of the future is now in the Majors. Smith has been tabbed as "not far behind" by Alderson. The other two spots on the infield will rotate between four players, but this is all about getting Rosario and eventually Smith acclimated to the big league level before they take over full-time in 2018.