NY Mets: Top 3 starting pitcher trade candidates from MLB Trade Rumors top 40 list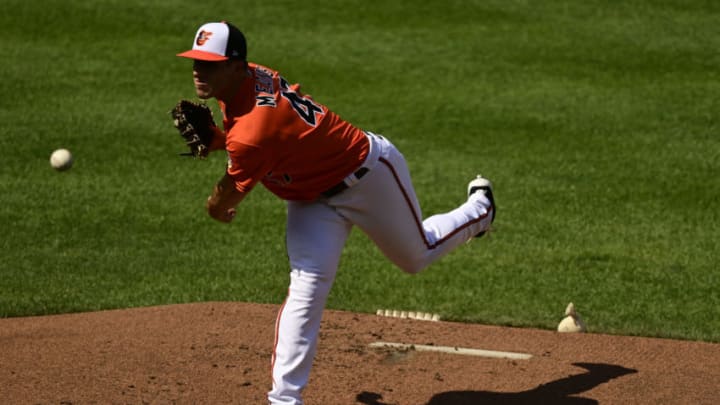 Jun 5, 2021; Baltimore, Maryland, USA; Baltimore Orioles starting pitcher John Means (47) delivers a first inning pitch against the Cleveland Indians at Oriole Park at Camden Yards. Mandatory Credit: Tommy Gilligan-USA TODAY Sports /
Will John Means be New York Mets bound at this year's trade deadline? Mandatory Credit: Tommy Gilligan-USA TODAY Sports /
Following up on our recent post of the top three relief pitcher trade candidates for the New York Mets is this new list covering a different part of the roster. Starting pitching shouldn't have been a problem for the Mets this year. However, an abundance of injuries and setbacks have put them in a position to possibly buy starters at this year's deadline.
MLB Trade Rumors recently published a list of the top 40 trade candidates which is both the basis and inspiration for this article. I'm not going to call MLBTRs my muse, but it's definitely always open on my laptop and computer for all things baseball-related.
Considering the Mets could have some starting pitching help coming whenever Carlos Carrasco and Noah Syndergaard are healthy (holds breath), there are certain starters from this list to dismiss. However, there are other options we could add to the list as a little more realistic for what this team may need in 2021.
NY Mets starting pitcher trade candidate John Means
John Means was actually someone the Mets considering acquiring this offseason. In which case, he might be a nearly perfect addition for them at this year's trade deadline.
Most known for tossing a no-hitter earlier in the season, Means is a 28-year-old having a terrific season for the Baltimore Orioles. As a lefty, he could help fill a void for the Mets. Between David Peterson and Joey Lucchesi, there are more question marks than the Riddler's outfit from the old Adam West version of Batman.
The Mets can survive this year without a lefty starter. It's a little overrated. For years, the Los Angeles Dodgers won a whole bunch of games with a rotation consisting of mostly lefties. Talent far exceeds anything else in this game.
The number of suitors Means will have this summer should be in abundance. Relatively young in the baseball world with years of control left and a cheap salary, he's a "go for broke" type of addition for the Mets to consider.
MLB Trade Rumors lists Means as the number 34 best trade candidate as of early July. I suspect he isn't higher because of how unnecessary it would be for the Orioles to trade him for less than they want.