Mets Monday Morning GM: How much is too much for Michael Conforto?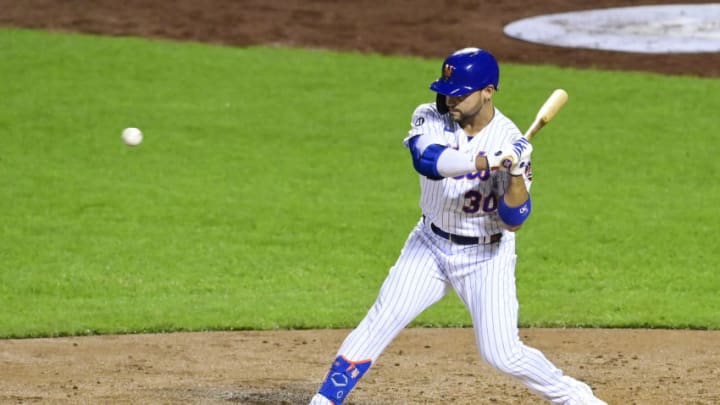 NEW YORK, NEW YORK - SEPTEMBER 08: Michael Conforto #30 of the New York Mets at bat against the Baltimore Orioles at Citi Field on September 08, 2020 in New York City. (Photo by Steven Ryan/Getty Images) /
The New York Mets seem focused on signing shortstop Francisco Lindor to an extension before Opening Day. Lindor has gone public, stating that once the season begins, negotiations are over.
This doesn't mean he'll necessarily leave the Mets. The club would still have an edge over many of baseball's big spenders. So, if a few weeks from now you Lindor is unsigned and the regular season begins, don't fret. We can just show him a good time and hope the club puts a ring on his finger.
Lindor isn't the only major position player vying for a new deal at the end of this season. Right fielder Michael Conforto is the other big name. A lifelong member of the Mets, he's a little more curious of a case.
Michael Conforto could easily slip away from the Mets this winter
I don't mean to panic you on this Monday morning. However, I'm sure you have already realized there's a chance Conforto is in another uniform 365 days from now.
Conforto is the type of player we should expect to command over $100 million. Entering free agency before turning 30 and with the numbers he can provide a team, Conforto should end up as one of the more coveted free agent position players next winter.
A case could easily be made that Conforto is the best free agent outfielder next offseason. It's not an elite class. The biggest names hitting the open market all play shortstop.
For the Mets, this means the potential to get into some major bidding wars. With Conforto at the top of the free agent outfield class and priced less than some other names, a lot more teams could be in on targeting him. Conforto's agent Scott Boras will make sure his client gets paid. The question is whether or not the Mets are the ones to hand the biggest offer.
How high should the Mets be willing to go to keep Conforto?
It's impossible to pinpoint an exact contract projection because of the uncertainty with baseball's financials. Plus so much of that speculation is purely speculative.
The Mets do have a few places they could turn to replace Conforto. Their best bet, if they want to replicate his numbers, would likely require a trade. We know guys will be available and this current regime isn't afraid to make trades.
As bottomless as Steve Cohen's wallet may be, the franchise didn't overspend this winter nor did they begin handing out extensions of any kind. It's feeling like the Mets are prepared to spend yet they have a set price as to where they value every player.
Trouble can occur if the Mets end tied up trying to extend Lindor and Conforto with no serious commitment to one. On the very high end of things, the pair could cost the organization nearly $500+ million. It's a big decision to make and I'm glad it's not my money.
What's more, the club also has to consider other players as well. Noah Syndergaard, Marcus Stroman, and Jacob deGrom's future opt-out should all weigh heavily on any decision the Mets make. If they want to keep up with teams like the Los Angeles Dodgers, they will need to say "yes" to a lot of things. How far those yeses extend could be the different between a fringe-playoff team and a possible dynasty.
How much Conforto makes will be directly impacted by how much Lindor gets and vice versa. A deal matching the $150 million George Springer received this winter certainly seems like a starting point from Conforto's camp. It's also where I might draw the line. I don't want to say Conforto's not worth more because who am I to determine the value of the work someone puts in? I once went to see The Mummy 3 while on the clock.
Want your voice heard? Join the Rising Apple team!
The best way I can put Conforto's value is this: he's worth as much as the Mets can pay him without hamstringing them in other places. If keeping him costs them from upgrading elsewhere, the Mets have overpaid.