New York Mets News
Mets: Five under the radar relievers to look at in free agency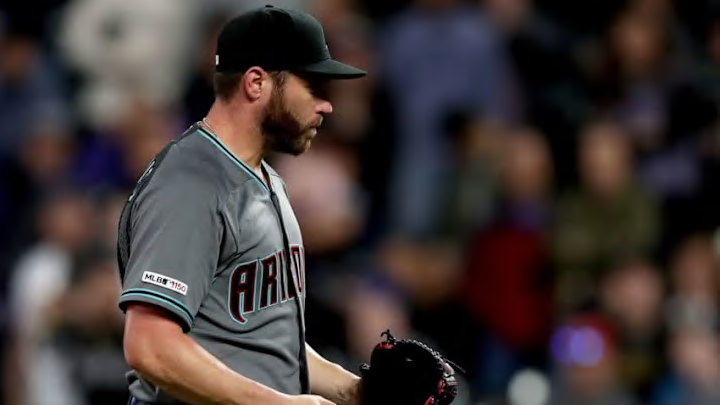 DENVER, COLORADO - MAY 03: Pitcher Greg Holland #56 of the Arizona Diamondbacks celebrates the last out in the ninth inning against the Colorado Rockies at Coors Field on May 03, 2019 in Denver, Colorado. (Photo by Matthew Stockman/Getty Images)
DENVER, COLORADO – MAY 03: Pitcher Greg Holland #56 of the Arizona Diamondbacks throws in the ninth inning against the Colorado Rockies at Coors Field on May 03, 2019 in Denver, Colorado. (Photo by Matthew Stockman/Getty Images)
Greg Holland
Once one of the most dominant closers in the game, I believe that even though he is passed hit prime, Greg Holland could help to bring some much-needed stability to the Mets bullpen.
Holland first started his career with the Kansas City Royals in 2010 where he was a two-time All-Star closer with the club before his season was cut short in 2015 due to injury. This forced him to undergo Tommy John Surgery, causing him to miss all of 2016 as well.
He rebounded in 2017 on a one year contract with the Rockies, taking over as closer for the team an earning his third All-Star selection, saving 41 games for Colorado.
In the two years since, Holland has split time between the Cardinals, Nationals, and Diamondbacks, with many highs and lows in between, but has been able to show flashes of his old self all the way through.
In fact, he served as closer for the Diamondbacks in part of last season, saving 17 games for the club with a 4.54 ERA, showing that despite his age, he can still be a trusted hand wit the game on the line.
While he may not be the elite closer he once was, he has performed better in the past 3 seasons than most in the Mets bullpen last year, and I think that Holland has demonstrated that he still has something left in the tank. On a one year deal, I think he is definitely a gamble worth taking.