New York Mets prospects
Mets minor leaguer Harol Gonzalez had a much better year in 2019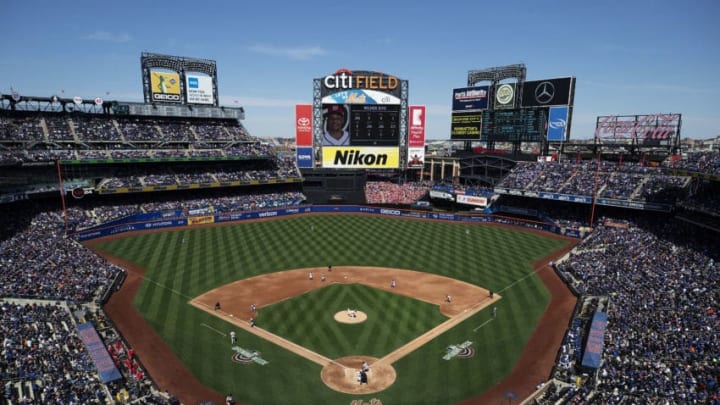 NEW YORK, NEW YORK - APRIL 04: A general view of Noah Syndergaard #34 of the New York Mets pitching against Wilmer Difo #1 of the Washington Nationals during the Mets Home Opening game at Citi Field on April 04, 2019 in New York City. (Photo by Al Bello/Getty Images) /
New York Mets minor league pitcher Harol Gonzalez got roughed up at multiple levels in 2018. This past season, he had a much better campaign.
Harol Gonzalez isn't a name many expected to see when mentioning notable New York Mets minor leaguers from the 2019 season. After all, in 2018, he combined to go 1-16 with a 4.80 ERA between Single-A and Triple-A. Gonzalez primarily spent the season in Double-A last year where he went 0-9 with a 7.79 ERA.
Not ready to give up just yet, Gonzalez rebounded big in 2019. Once again with the Double-A Binghamton Rumble Ponies, he had a much different season.
Gonzalez went 6-4 with Binghamton and gave them a 3.14 ERA. He even managed to join the Syracuse Mets this season where he looked even better. In those opportunities, the 24-year-old righty went 6-0 with a 2.68 ERA. Combine all of the numbers and Gonzalez finished the year 12-4 with a 3.01 ERA.
While hardly a top prospect in the system, Gonzalez is young enough to have a future with the big league Mets. We saw plenty just how desperate this team is for pitching help. Still unproven, Gonzalez's name is one we could see next season as a possibility.
At 6'0 and only 160 pounds, Gonzalez is a slimly built starting pitcher. His successful season is a result of favorable strikeout numbers and a low walk total. By mastering his command, he was able to pick up more wins and keep runners from scoring a whole lot more in 2019 than he did in 2018.
Gonzalez has been a part of the Mets organization since 2014. During this time, he has worked almost exclusively as a starter. This isn't uncommon to see in the minor leagues. Typically, you want your best pitchers—whether destined for relief or the rotation—getting as many innings as possible.
Want your voice heard? Join the Rising Apple team!
Whatever it is Gonzalez has in store for him at the end of his baseball journey, his climb into relevancy in 2019 is something to note.