New York Mets News
Mets bullpen doomed them, but so did these three factors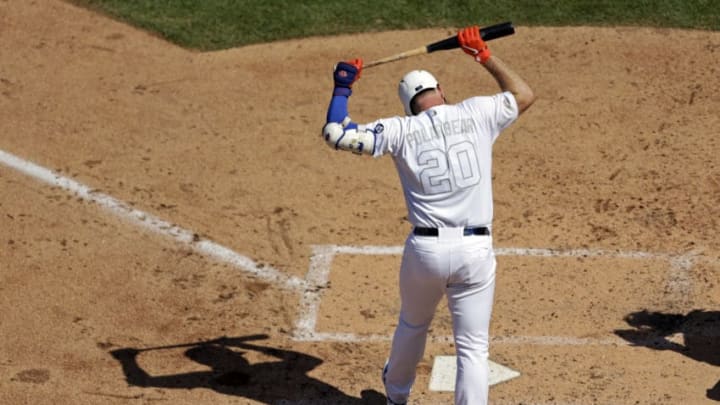 NEW YORK, NY - AUGUST 25: Pete Alonso #20 of the New York Mets reacts after striking out looking during the sixth inning against the Atlanta Braves at Citi Field on August 25, 2019 in the Flushing neighborhood of the Queens borough of New York City. Teams are wearing special color-schemed uniforms with players choosing nicknames to display for Players' Weekend. The Braves won 2-1. (Photo by Adam Hunger/Getty Images)
CHICAGO, ILLINOIS – JULY 30: Edwin Diaz #39 of the New York Metspitches against the Chicago White Sox at Guaranteed Rate Field on July 30, 2019 in Chicago, Illinois. (Photo by Jonathan Daniel/Getty Images)
The New York Mets bullpen got plenty of blame for the team's shortcomings in 2019. However, these three factors also led to the team missing the playoffs.
Put a fork in the New York Mets and tell the fat lady to warm up her voice—it's time for her to sing. With the season now officially over, it's time to reflect a little bit on what went wrong this season.
Sure, you may want to hide buried beneath a few pillows for a few days, weeks, or until pitchers and catchers report again in February. I understand. You've invested 162 games and more into this season. To watch it end is heartbreaking.
Throughout much of the 2019 season, many with an optimistic view of this team pleaded the case that this roster was better than their record. Until late July, this was true.
Finally, after months of waiting for the record to catch up to the talent, the Mets became a winning ball club. The starting pitchers anchored the team. The offense provided them with plenty of support. Even the bullpen which doomed them for much of the season seemed to figure things out temporarily.
Anyone who watched a moment of Mets baseball this year can go on for ages about how much the bullpen cost this team a chance at contending. Edwin Diaz was an utter disaster as the team's closer. For an even longer length of time, Jeurys Familia served up runs like they were going out of style.
Runs allowed by Mets relievers never did go the way of disco. Nearly everyone who stepped on the mound in a relief role this season will conclude 2019 with an ERA of 5.00 or higher. It's a ridiculous fact and the number one cause for why the year will end on time.
The relief pitching was still only one of the factors which caused the Mets to miss the postseason for the third straight year. As we look back on the year, there were plenty more reasons for their demise.