New York Mets History
Mets History: At 47, Julio Franco returns to third base 24 years later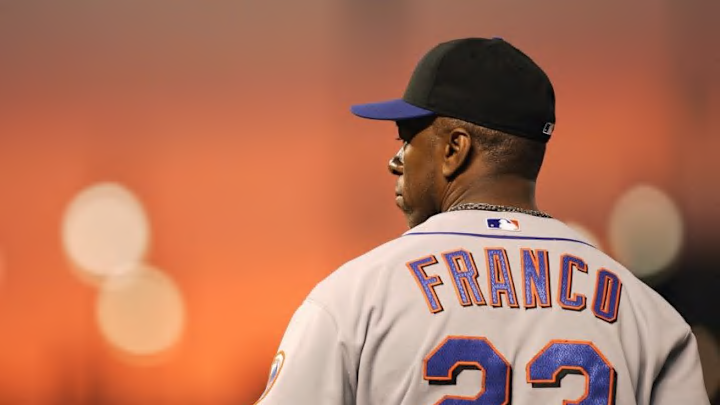 DENVER - AUGUST 31: First baseman Julio Franco #23 of the New York Mets mans first base as the sun sets in a game against the Colorado Rockies on August 31, 2006 at Coors Field in Denver, Colorado. (Photo by Brian Bahr/Getty Images)
On September 19, 2006, the New York Mets had the division locked up and gave 47-year-old Julio Franco a chance to play third base for the first time in 24 years.
When baseball fans see the name Julio Franco, we all think of the same thing: agelessness. In 2006, he spent his season as a member of the New York Mets where he would do something he had not done since his rookie year in 1982.
Somehow still able to play baseball at a good level at age 47, Franco was called upon to play third base for the Mets in 2006. From 1999 until this point, the only position he played in the field was first base.
As a person who first became a baseball fan in the mid-1990s, I always viewed Franco as a first baseman/designated hitter. However, the primary position in his career was shortstop. The bulk of these games occurred in the 1980s and early 1990s. By the time he was in his 40s and still playing, Franco's role was to pinch-hit or take over at the "old man's position" at first.
Thanks to a playoff berth clinched on September 18, 2006, the Mets were able to have fun with Franco and start him at third base the following day. September 19, 2006, was a historic one for Franco. After a long absence from playing anywhere other than first base, he moved away from familiarity and ventured over to the hot corner where he only played once before in his entire career.
This wasn't the last time Franco would see third base with a glove on his hand. On September 29, he got another start at the position. He later got two more starts at third base in 2007.
In the 11 chances at third base during those four starts, Franco didn't commit a single error. Due to the small size, we can't really look too deep into other metrics. What's important is that he accomplished a mission 24 years later.
Want your voice heard? Join the Rising Apple team!
Rarely will a player see his career last 20 seasons. Franco was a special case. And in 2006, his drought at third base ended a year before he finally hung up his MLB cleats.