New York Mets News
Mets outfielder Michael Conforto can silence his critics this year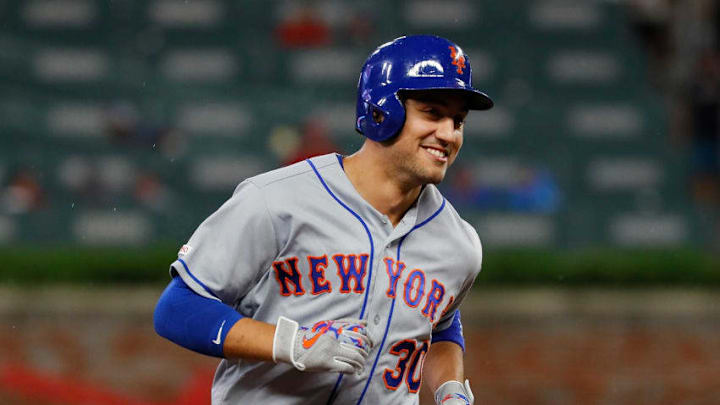 ATLANTA, GEORGIA - JUNE 18: Michael Conforto #30 of the New York Mets rounds thirds base after hitting a solo homer in the eighth inning against the Atlanta Braves on June 18, 2019 in Atlanta, Georgia. (Photo by Kevin C. Cox/Getty Images)
New York Mets outfielder Michael Conforto will look to silence his doubters with a productive end to 2019.
The New York Mets star right fielder Michael Conforto is not a flashy guy in the least bit. He is having another productive season on the diamond. His reputation as a humble guy who does whatever it takes to win has continued throughout 2019 through the highs and lows of the season.
Despite all this, some fans do not appreciate the results. He is on pace to set some notable career highs while competing alongside some of the best sluggers in baseball.
Conforto's biggest moment of the year came last Friday night. Sure to be a Mets classic game, Scooter knocked the game-winning hit in an amazing comeback versus the Washington Nationals. Citi Field blew its nonexistence roof off. The scene on the field included the usual mob with Conforto getting his shirt ripped off by Pete Alonso.
The early part of Conforto's career has been interesting. The young man from Seattle struggled at the plate in 2016 and revisited the minor leagues to get back his stroke. With his earlier issues seemingly over, he is producing at the levels many believed he could.
Not too many players can say they have been in the World Series in their first season. However, Conforto was one of the fortunate ones who can. He was a big part of the Mets' success in 2015 both in the regular season and playoffs.
His reputation as a streaky hitter is made up for when he comes up with timely hits like he did last week. As he goes, so does the team. The Mets are counting on his bat as much as anyone else.
Conforto may never get the respect he has earned and deserves from everyone. Injuries have limited him in some of his best seasons. In other years, the team's failure made his production look less valuable.
Want your voice heard? Join the Rising Apple team!
This year is the one where it could look different. With the team still vying for a playoff spot, every connection he makes with the ball matters.