New York Mets prospects
New York Mets 2019 Draft Class: Getting to know the new kids on the block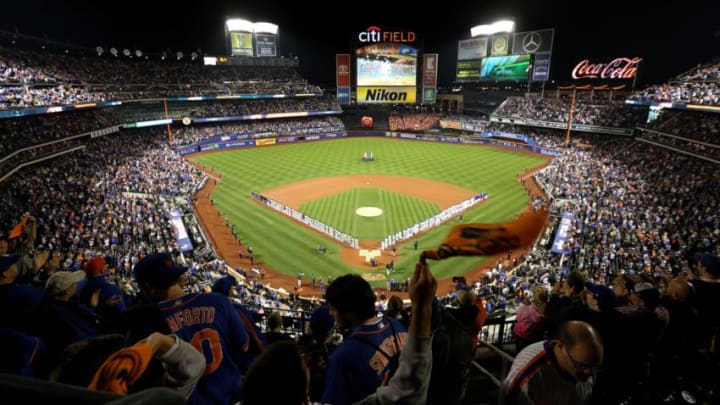 NEW YORK, NY - OCTOBER 05: A general view during pre-game ceremonies for the National League Wild Card game between the New York Mets and the San Francisco Giants at Citi Field on October 5, 2016 in New York City. (Photo by Michael Reaves/Getty Images)
ATLANTA, GEORGIA – APRIL 11: Detail of a New York Mets player's sock during the game against the Atlanta Braves at SunTrust Park on April 11, 2019 in Atlanta, Georgia. (Photo by Mike Zarrilli/Getty Images)
Fourth Round- Jake Mangum, OF
The first college senior the Mets selected was outfielder (mainly centerfielder) Jake Mangum out of Mississippi State University. The Mets actually drafted him in the 32nd round of the 2018 MLB draft, but he decided to return to school for his senior year.
He is a switch-hitter and is known for his speed. He is an unremarkable defender and several aspects of his game are flawed, but there is much room for improvement. Mangum has a great deal of untapped potential and just keeps getting better.
Fun fact: he set the career hits record for the SEC during his time at Mississippi State.
Fifth Round- Nathan Jones, RHP
With their fifth pick, the Mets drafted pitcher Nathan Jones out of Northwestern State University in Louisiana.
He served as both the team's closer and a starting pitcher during his time there. He was great as a closer and led the team in appearances as well as saves but went undrafted last year after being moved to the starting pitching role. In 14 games this past year, Jones posted a 2.78 ERA with 80 punchouts.
Sixth Round- Zach Ashford, OF
In the sixth round, the Mets drafted centerfielder Zach Ashford out of California State University, Fresno.
Ashford is generally good at reading the strike zone: he has a consistently good OBP, walks a lot, and does not strike out much. He is very fast and is an excellent defender: he committed just one error during his entire college career.