New York Mets prospects
New York Mets 2019 Draft Class: Getting to know the new kids on the block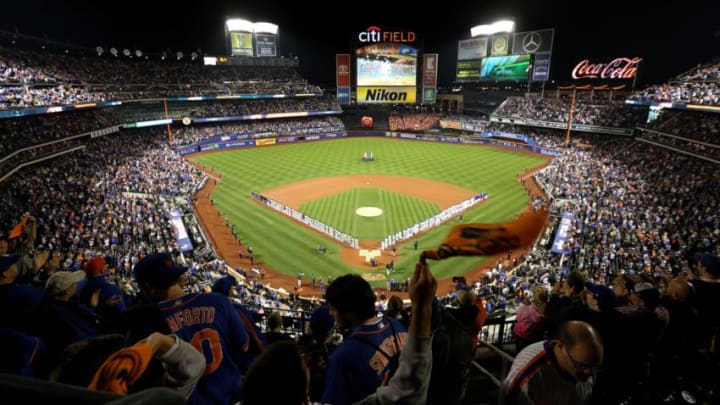 NEW YORK, NY - OCTOBER 05: A general view during pre-game ceremonies for the National League Wild Card game between the New York Mets and the San Francisco Giants at Citi Field on October 5, 2016 in New York City. (Photo by Michael Reaves/Getty Images)
NEW YORK, NY – OCTOBER 30: Batting helmets are seen prior to Game Three of the 2015 World Series between the New York Mets and the Kansas City Royals at Citi Field on October 30, 2015 in New York City. (Photo by Doug Pensinger/Getty Images)
The New York Mets had one of the more talked about draft classes in 2019. Let's get to know the men they chose in rounds one through ten.
The 2019 MLB Draft took place earlier this month, adding a new crop of talented young men to each team's farm system. Now that it's over, we can be glad to say the New York Mets actually had a great draft. They got seemingly decent pitching, arguably the best swing in the draft, and a first-round talent in the third round.
In the coming days as more of them officially sign, let's delve deeper into what they project to become and get to know a little about them as people.
First Round- Brett Baty, 3B
With their first pick, the Mets selected 19.5-year-old senior third baseman Brett Baty out of Lake Travis High School in Austin, Texas. Kevin Millar of MLB Network called Baty "the best swing" in the draft who exhibits great power, is very athletic for his size and could be MLB-ready in two years.
He is ranked as the 15th best prospect on the Baseball America 500 list. Baseball America also has him ranked as the second-best player in terms of power, the third best hitter, and the third best strike zone judgment.
He is currently playing in the Texas state baseball tournament and is hitting a whopping .615 with 19 home runs and 50 RBIs on the season. This season, his home run stats translate to a home run every 5.05 at bats.
All this sounds wonderful, but what about his defense? Unfortunately, there are many defensive concerns surrounding the third baseman. It is quite poor, and the idea has already emerged that he will have to play a different position because his defensive skills are so poor and, to make matters worse, third base is an exceptionally difficult position to play.
Baty has also spent time at first base and in the outfield so, at this rate, he may have to make a permanent switch to one of these positions. So far, his story is similar to that of Mets' rookie first baseman Pete Alonso: a promising hitter with significant defensive issues. Alonso was able to work on his defense and has generated no complaints since being called up.
Baty could go down a similar path, but third base is much harder to man than first base. Moving him to the corner outfield may be the more pragmatic and realistic option for the Mets. Prior to being drafted, Baty had committed to the University of Texas but has decided to go pro.
According to his father, Clint, he will travel to New York this weekend to take his physical and sign with the team. This is an excellent signing for the Mets, that fans should be very excited about, especially since he has a chance at playing in Flushing sooner rather than later. Picturing Baty hitting back-to-back with Alonso makes us wish his debut will come soon.