New York Mets News
Early Mets storylines to watch throughout the 2019 season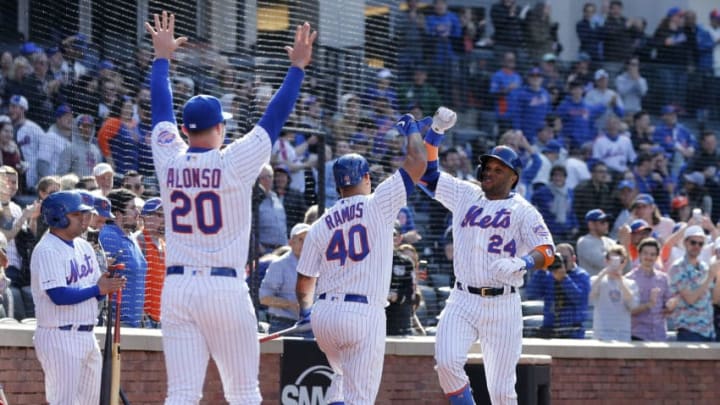 NEW YORK, NEW YORK - APRIL 06: Robinson Cano #24 of the New York Mets celebrates his eighth inning home run against the Washington Nationals with teammates Wilson Ramos #40 and Pete Alonso #20 at Citi Field on April 06, 2019 in the Flushing neighborhood of the Queens borough of New York City. (Photo by Jim McIsaac/Getty Images)
NEW YORK, NEW YORK – APRIL 04: Jeurys Familia #27 of the New York Mets pitches against the Washington Nationals on April 04, 2019 during the Mets home opener at Citi Field in the Flushing neighborhood of the Queens borough of New York City. (Photo by Michael Heiman/Getty Images)
What's going on with this bullpen?
Bullpens across baseball are imploding early on this year and the Mets relievers are no different. It seems each arm out of the pen has had at least one major blow-up with the exception of closer Edwin Diaz.
Relief pitchers play a major role with teams these days. With starters exiting games earlier than ever, it's essential a team has a good bullpen to get them through the season.
Perhaps most frustrating of all has been the performances from Robert Gsellman and Seth Lugo. The duo made giant strides last season as part of the relief corps. However, in 2019, the story has been much different. We'll need to learn this year whether or not the pair truly belong as key relievers on this roster.
Jason Vargas' job already in jeopardy
After one start, the Mets decided to skip Jason Vargas the second time around in the rotation. Even though he won his first game and statistically didn't look bad, the outing was not impressive. His job may already be in jeopardy.
The Mets were sure to give themselves more options this season in the starting pitcher department. Down in Triple-A, you can find Corey Oswalt and Hector Santiago as a pair of viable options to replace Vargas. You better believe they won't hesitate to make a move later this year if Vargas' season is as bad as last.
Considering his salary and the fact that it's early, I don't foresee any major change for Vargas anytime soon. By game 162, though, there's a good chance we see someone else slotted in at number five.