New York Mets News
New York Mets from A to Z: What we should expect from them in 2019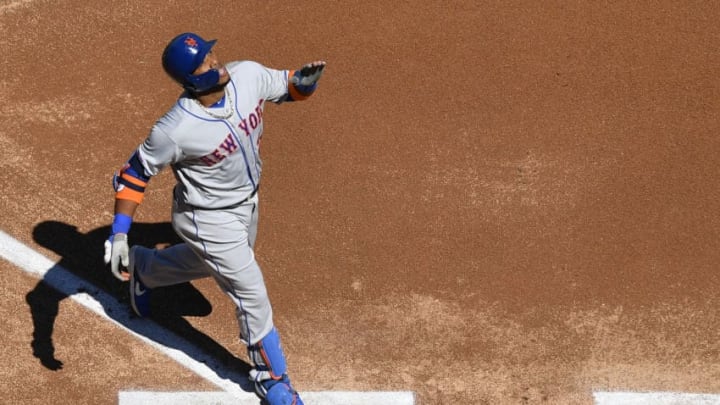 WASHINGTON, DC - MARCH 28: Robinson Cano #24 of the New York Mets celebrates after hitting a solo home run in the first inning against the Washington Nationals on Opening Day at Nationals Park on March 28, 2019 in Washington, DC. (Photo by Patrick McDermott/Getty Images)
WASHINGTON, DC – MARCH 28: Amed Rosario #1 and Brandon Nimmo #9 of the New York Mets celebrate after the Mets defeated the Washington Nationals 2-0 on Opening Day at Nationals Park on March 28, 2019 in Washington, DC. (Photo by Patrick McDermott/Getty Images)
From A-Z, this is what you can expect from the New York Mets in 2019.
Few seasons have felt as exciting as 2019. The New York Mets are combining their stable of young pitchers with a vastly improved bullpen and offense. On paper, the team seems primed for a serious push towards the postseason.
As we dream of what the team might accomplish, these are the A through Z facts that you need to know!
Rosario is one of the New York Mets' key young players. He is also the teams' best speed threat since prime Jose Reyes. Baseball reference projects the young shortstop will hit 10+ home runs and steal 15+ bases. If he can capitalize on some of his Spring Training momentum, he could contend for 20 homers and 20 steals.
B: Bunting
Mets' manager Mickey Callaway has publicly stated that his team will emphasize bunting as a solution to potential defensive shifts. This will be a new skill for many of the Mets batters.
C: Conforto
Conforto is expected to be one of the most important hitters in the 2019 lineup. His development into a regular All-Star will be vital to the Mets' offense. He finished Spring Training tied for 3rd amongst all hitters in home runs (with five). It will be interesting to see if he can enter the conversation of best power hitters in baseball.