New York Mets News
Mets: Edwin Diaz's best and worst case scenarios for 2019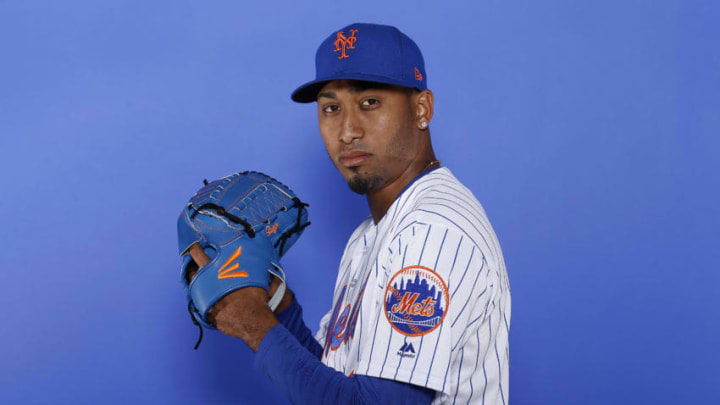 PORT ST. LUCIE, FLORIDA - FEBRUARY 21: Edwin Diaz #39 of the New York Mets poses for a photo on Photo Day at First Data Field on February 21, 2019 in Port St. Lucie, Florida. (Photo by Michael Reaves/Getty Images)
SEATTLE, WA – SEPTEMBER 29: Reliever Edwin Diaz #39 of the Seattle Mariners delivers a pitch during the ninth inning of a game against the Texas Rangers at Safeco Field on September 29, 2018 in Seattle, Washington. The Mariners won the game 4-1. (Photo by Stephen Brashear/Getty Images)
Best Case Scenario
The best-case scenario for Diaz in 2019 is he takes another step forward to being the best closer in baseball.
Diaz's year last year was incredible and using that word is not an exaggeration. His 57 saves were tied for the second most in MLB history (Bobby Thigpen, 1990) and came really close to surpassing former Mets Francisco Rodriguez's total of 62 in 2008. When Diaz recorded save number 50, he became the youngest to reach 50 saves in a season at age 24, beating out Craig Kimbrel who was 25 in 2013.
As mentioned before Diaz set a career high in saves and strikeouts. With 50 plus saves and 100 plus strikeouts on the season, Diaz became one of two players to have 50 plus saves and 100 plus strikeouts in a season. The other player to do so was Eric Gagne.
But what was most impressive was Diaz's performance in one-run games. The Seattle Mariners were 30-0 in games where Diaz took the mound with a one-run lead and he converted 27 out of 30 saves in those games. Overall, Seattle was 66-0 when they gave the ball to Diaz and they had a lead.
There's been a lot of talks about how saves are irrelevant now and how anyone can be the closer. But Diaz numbers prove that's not exactly true. You want someone to come in and shut the door and Diaz has proved he can do just that.
The Mets blew a lot of one-run and two-run leads last year and the best thing that can happen this year is Diaz comes in and cleans that up.