New York Mets History
New York Mets: Top 10 most Amazin' Wilmer Flores moments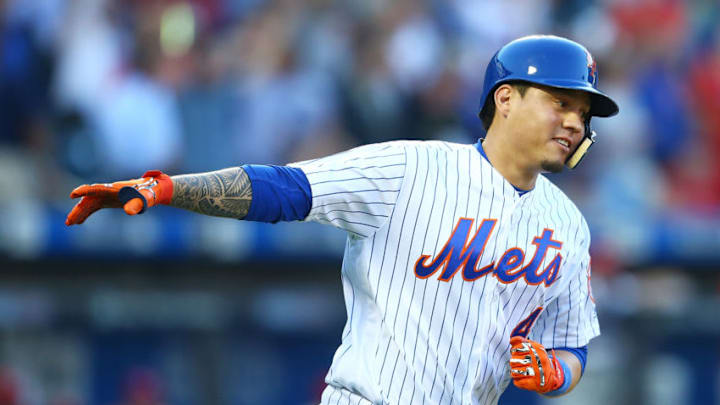 Mets
4. Flores Becomes Second Met With 6 Hits in a Game
On July 3rd, 2016 Flores had an astonishing 6 hits in a 9-inning game against the Cubs. He was only the second Met to have 6 hits in a 9 inning game, and the first since Edgardo Alfonzo did so in 1999.
Since the start of 1901, only 69 players have gotten 6 hits in a 9 inning game, and Flores is one of them.
3. Flores Becomes Mets All-Time Walk-Off Leader
Flores broke David Wright's record for the most walk-off RBI as Met on July 9th, 2018. He hit a pinch-hit walk-off solo home run off the Phillies during game one of a doubleheader that day. This was Flores's 10th walk-off RBI as a Met, surpassing David Wright for sole possession of 1st place for the most walk-off RBI.
More from Rising Apple
In almost 5,000 fewer plate appearances, Flores was able to drive in more walk-off RBI than David Wright, which is an absolutely crazy and unheard of amount of time.
2: There is Crying in Baseball
Seeing Flores break down on the field and cry in the middle of a game shows baseball players are human. Flores had been with the Mets since his 16th birthday, now at 23 years old, he finds out he is traded from the only place he knows. Seeing a professional athlete show this kind of emotion is very rare, so to see Flores cry mid-game on the field got the attention of many and was seen all over.
This was the time where anybody who didn't like Flores or had no opinion changed, from this point forward Flores was a fan favorite and always received unconditional love from the fans.
1: Tears of Joy
No surprise here for Flores' top moment with his clutch walk-off home run against the Washington Nationals just days after crying on the field. I think it is fair to say that it was almost expected for Flores to do something big that night because of the events that unraveled in the past couple days.
Tied in the bottom of the 12th inning against their division rivals, Flores stepped up and cracked a game-winning solo home run off of Felipe Vázquez. This is arguably the biggest hit of Flores' career and for the Mets that entire year.
Want your voice heard? Join the Rising Apple team!
What Flores moment was your favorite?