New York Mets History
New York Mets: Top 10 most Amazin' Wilmer Flores moments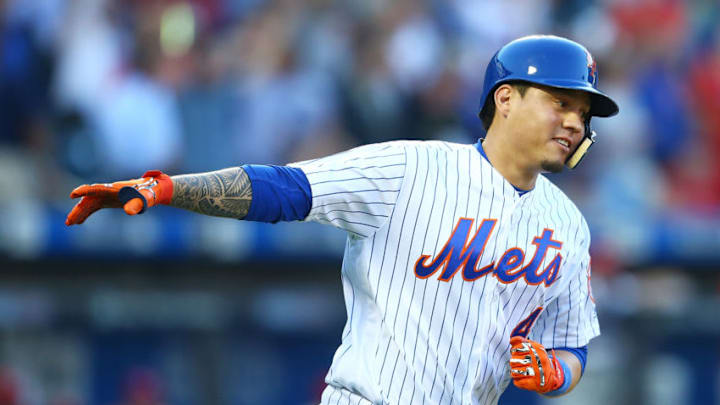 Mets
8. Flores Knocks His First of Many Walk-Offs as a Met
On September 8th, 2014 Flores collected his first walk-off as a member of the New York Mets, a sacrifice fly against the Colorado Rockies.
With the game tied at 2 in the bottom of the ninth and a runner on third with no outs, Flores hit a fly ball to center field which resulted in Curtis Granderson scoring the winning run.
 7. Flores Logs His First Walk-Off Hit
On May 26th, 2015 Flores knocked his first career walk-off hit against the Philadelphia Phillies. The Mets were in the bottom of the 10th with runners on second and third with 2 outs, Flores came up and hit a soft line drove over shortstop to drive in Juan Lagares for the winning run.
This would soon become somewhat of a normal thing as Flores would go on to hit two more walk-offs this year.
6. Flores Ties the Captain
On June 26th, 2018 Wilmer Flores tied David Wright for the most walk-off RBI in Mets history.
Wilmer came up in the bottom of the 10th with runners on first and second with 1 out against the Pittsburgh Pirates and pulled a ball just fair down the line to drive in Michael Conforto from second for the game winner.
5.Flores Hits First Career Grand Slam
Flores smacked his first career grand slam and drove in a career-high 6 runs against the Philadelphia Phillies on June 26th, 2014.
In the 9th inning, Flores clobbered the ball into the left field stands to give the Mets an 11-2 lead, with an amazing 6 of the runs coming from his bat throughout the day.