New York Mets News
Mets: Pros and cons of a Nick Castellanos trade with the Tigers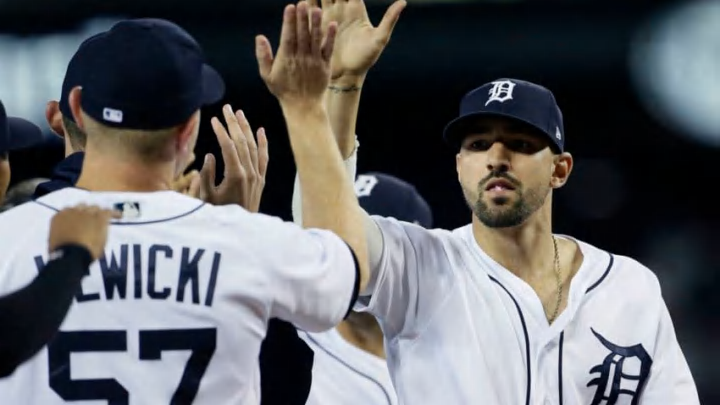 DETROIT, MI - JUNE 1: Nicholas Castellanos #9 of the Detroit Tigers celebrates with Artie Lewicki #57 of the Detroit Tigers after a 5-2 win over the Toronto Blue Jays at Comerica Park on June 1, 2018 in Detroit, Michigan. (Photo by Duane Burleson/Getty Images) /
Mets /
Cons
As phenomenal as Castellanos is offensively, his defensive struggles are not something to be taken lightly. He is not particularly fast and does not have a strong throwing arm. According to his Ultimate Zone Rating (UZR) and Defensive Runs Saved (DRS) throughout his career, Castellanos has been one of the worst defenders at his position.
During his time as the Tigers' third baseman, he was widely believed to be the worst defensive third baseman in the entire league. Many hoped and believed that he would be a better defender when the Tigers moved him to the outfield, especially since third base is one of the hardest positions to play in baseball, but that has not really been the case.
More from Rising Apple
His UZR has actually been worse since his move to the outfield and his DRS has been about the same. However, it is important to note that he has been involved in many more plays as an outfielder. According to FanGraphs, Castellanos was ranked last among major-league right fielders in 2018 with a -12.5 rating.
Since Victor Martinez, the Tigers' designated hitter, retired after the 2018 season, there now appears to be an opening at the DH position. Fans believe (and want) Castellanos to occupy that role as the Tigers' full-time DH, especially because the team has outfield prospects coming in.
This would put the Mets in quite the predicament because no team wants to have a player who cannot play defense and the National League does not have a DH, so Castellanos would have to play on the field if the Mets want him to hit.
Additionally, even though he has not been called up yet, Peter Alonso will most likely be the Mets' first baseman in 2019. Alonso's defense is quite poor and is the reason why he was not called up in 2018. Having two very poor defenders may prove to be quite problematic.
The cost of acquiring Castellanos may also be too high: it has become clear that the Tigers are expecting a top prospect in exchange for him. The Mets would have to give up at least one of their top 10 prospects for a defensively poor player in an outfield that can become overcrowded if everyone is healthy.
Want your voice heard? Join the Rising Apple team!
Castellanos' offense is appealing and hard to resist, especially to a team like the Mets who are not known for boasting many power-hitters. They need depth in the outfield and he could be the solution. However, Castellanos' defense is quite dreadful, so is giving a top prospect up for him worth it?