New York Mets News
Mets: Pros and cons of a Nick Castellanos trade with the Tigers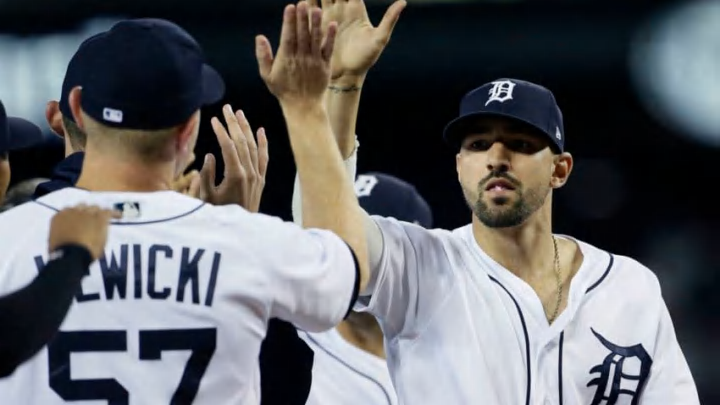 DETROIT, MI - JUNE 1: Nicholas Castellanos #9 of the Detroit Tigers celebrates with Artie Lewicki #57 of the Detroit Tigers after a 5-2 win over the Toronto Blue Jays at Comerica Park on June 1, 2018 in Detroit, Michigan. (Photo by Duane Burleson/Getty Images) /
Mets /
Pros
Castellanos was drafted by the Tigers out of high school, where he played shortstop, in 2010 and shortly became their best hitting prospect. He was moved to third base and was the MVP of the 2012 All-Star Futures Game and made his MLB debut on September 1, 2013.
When he was called up to the big leagues, he was moved to left field because Prince Fielder was playing first base and Miguel Cabrera was manning the hot corner. Fielder was subsequently traded in 2014, resulting in Cabrera moving to first base and Castellanos switching to third.
He had his breakout season in 2016: he slashed .285/.331/.496 and hit 18 home runs in just 110 games (he suffered an injury that prevented him from playing the full season). In 2017, the Tigers acquired third baseman Jeimer Candelario and their right fielder, J.D. Martinez, left the team, so Castellanos was forced to move to right field.
That season, he slashed .272/.320/.490, hit a career-high 26 home runs, notched 101 RBI, and led the American League with ten triples. He was solid, yet again, in 2018, slashing .298/.354/.500 with 23 home runs. The Mets are aware of the fact that the injury-prone Lagares is a liability in center field.
That realization has prompted them to acquire some outfielders during the offseason. However, none of the said outfielders are power hitters who can provide sufficient offensive production for extended periods of time.
Castellanos will be 27 years old when the 2019 season begins and will just be entering his prime, so we should not be surprised to see his numbers continue to improve even further.
The strong, right-handed bat of Castellanos who is a solid power-hitter and gets on base a great deal is something the Mets could definitely benefit from.