New York Mets News
Mets: Three possible Juan Lagares trade destinations to consider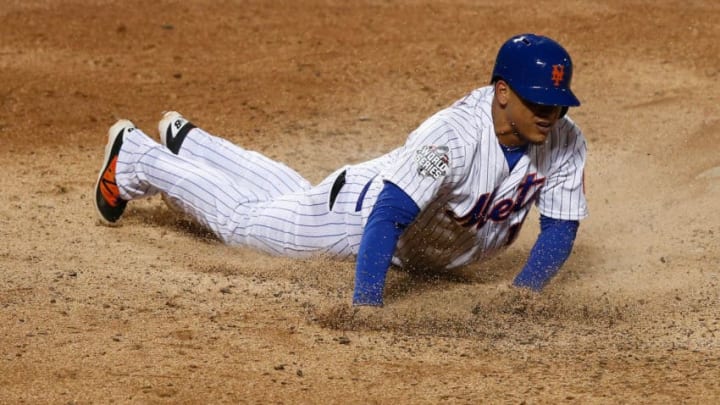 NEW YORK, NY - OCTOBER 30: Juan Lagares #12 of the New York Mets scores in the sixth inning against the Kansas City Royals during Game Three of the 2015 World Series at Citi Field on October 30, 2015 in the Flushing neighborhood of the Queens borough of New York City. (Photo by Doug Pensinger/Getty Images)
Mets
Cleveland Indians
The Cleveland Indians need more than a center fielder this offseason. Utility man Lonnie Chisenhall and former MVP challenger Michael Brantley are both free agents. The organization does have other options, but adding a veteran like Lagares could benefit them.
We heard the Indians may plan to rebuild. At the very least, they're shopping some players. I can't believe this considering how easy it will be for them to capture yet another division title in 2019.
Cleveland is left-handed heavy and the addition of Lagares could help balance things out on days when they face a southpaw. As a team with too many green outfielders, the experience Lagares could give them is worth a look.
More from Rising Apple
I could see Lagares as a fourth outfielder on this team. The Indians have been somewhat creative with their lineups, even moving Jason Kipnis to other positions as needed. Lagares won't play anywhere but the outfield. However, his presence may allow them to experiment in other ways. Admittedly, I don't know enough about their roster to make any guesses as to what more they could do.
The Indians are at a crossroads. After falling just shy of winning it all in 2016, they've bounced out in the ALDS in two consecutive years. They are still far and away the best team in the American League Central. If they decide to sell instead of buy this winter, they're not doing themselves any favors.
I've read rumors of them targeting Adam Jones as the potential center fielder. I like his bat in their lineup. His glove is a different story.
Perhaps the biggest challenge in this potential trade between the Mets and Indians is the latter's reluctance to overspend. Lagares' salary may be too rich for them given what he brings. The only way a deal may work is if the Mets eat a part of the contract. We know how unwilling they've been at doing that.
The top-prize in Cleveland the Mets should seek is catcher Yan Gomes. Perhaps a multi-player deal involving Gomes and Lagares is the way this can happen.