New York Mets News
Mets: Three possible Juan Lagares trade destinations to consider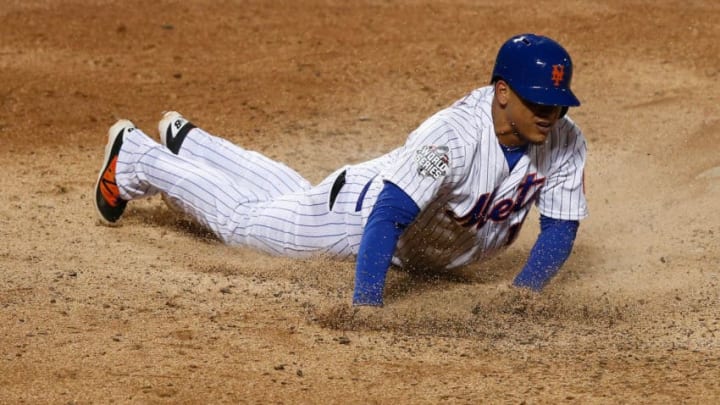 NEW YORK, NY - OCTOBER 30: Juan Lagares #12 of the New York Mets scores in the sixth inning against the Kansas City Royals during Game Three of the 2015 World Series at Citi Field on October 30, 2015 in the Flushing neighborhood of the Queens borough of New York City. (Photo by Doug Pensinger/Getty Images)
Mets
Arizona Diamondbacks
The Arizona Diamondbacks may lose the best center fielder hitting the open market this winter. I haven't seen anyone predict A.J. Pollock returns to the desert. If this is indeed what happens, they could need a new man up the middle beyond the infield dirt.
At his salary, Lagares is not a cheap one-year plug-in player anyone should look at. He's an added touch you'd have to overpay for in the salary department. I think even the biggest Lagares fans will agree he's not worth $9 million.
The Diamondbacks have reason to try and compete this upcoming year. Paul Goldschmidt should start the year on the roster. Even with the loss of Pollock and Patrick Corbin, they have a competitive team. A major rebuild should wait at least another year. Lagares' contract matches up perfectly with its timing.
There hasn't been much written about this offseason regarding the Diamondbacks and buying. Instead, many of the stories are about how they will lose two core members of the franchise. I could see them selling at the 2019 trade deadline. Until then, they would be wise to seek out some additions via trades.
Do I think Lagares end up in Arizona? He may.
This is the same team that sent Zack Greinke a fortune. The 2019 campaign is their final shot to make a serious run at things and to have a Gold Glove-caliber center fielder in there part-time could really help out.
The ballpark in Arizona is hell for pitchers some nights. A guy with Lagares' range may help make it a little more tolerable when he's able to track fly balls others cannot.