New York Mets News
Mets: Three possible Juan Lagares trade destinations to consider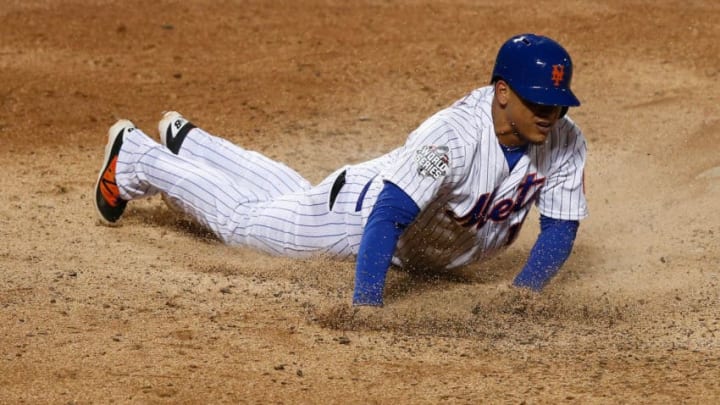 NEW YORK, NY - OCTOBER 30: Juan Lagares #12 of the New York Mets scores in the sixth inning against the Kansas City Royals during Game Three of the 2015 World Series at Citi Field on October 30, 2015 in the Flushing neighborhood of the Queens borough of New York City. (Photo by Doug Pensinger/Getty Images) /
Mets /
Juan Lagares is one of the few veterans on the New York Mets they should and may be able to trade. Let's examine which teams could use the Gold Glove-caliber center fielder.
New York Mets outfielder Juan Lagares is the forgotten outfielder from the 2018 roster. He was the first of the notable men to go down with a season-ending injury, cutting short his penultimate season with the only big league club he has ever known.
Lagares will become a free agent after 2019. After taking home a handsome salary for the last several years including another $9 million coming his way this season, he'll likely part ways with the Mets.
This break-up could happen sooner than free agency, though. Lagares, while the best center fielder within the organization, is prone to injury and slumps. He's a defender first, hitter second. When he has hit well, it has typically come against left-handed pitchers. Lagares is a great platoon option when paired with a lefty hitter who can also play in center field.
Unfortunately, the Mets need a little more from their center fielder in 2019. As a result, I believe it's valuable to trade Lagares if only to clear a roster spot and some salary to upgrade the position.
In 2018, we saw Michael Conforto and Brandon Nimmo attempt to play the position. They didn't embarrass themselves, but each is far better suited in a corner spot. Austin Jackson upgraded the defense when he joined the team. Sadly, his bat has bottom-of-the-order ability.
Lagares is a similar-type player as Jackson and not worth the salary he's owed. If they are able to move him, this clears up a large chunk of the payroll to sign a better player to a long-term deal or even take on the salary of a reliever. I don't see the Mets giving Lagares the playing time his salary suggests he should get.
Plenty of MLB teams could use a guy like Lagares on their roster. These three seem to fit well.